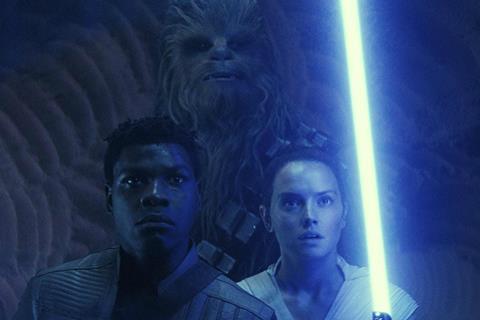 An intriguing confluence of old and new releases should see a closer contest at the international box office this weekend, where one thing seems assured – Star Wars: The Rise Of Skywalker will cross the $1bn global box office barrier.
The sci-fi, which will become the seventh film released via Disney in 2019 to reach the milestone, was the highest earner last weekend and may just about stay top unless Frozen II or Sony's Jumanji: The Next Level can assume the mantle. Golden Globe winner 1917 is expected to acquit itself well as the prestige thriller launches in its first markets including the UK.
The Rise Of Skywalker has reached $485m through Walt Disney Studios Motion Pictures International and $945.9m globally as of Wednesday. The Force enters South Korea and Philippines and the two markets promise much, given that The Last Jedi opened on $5.2m en route to $7.9m, and $2.9m for $5.2m, respectively.
Frozen II on $891m internationally will soar past $900m this weekend and remains in fine fettle, having amassed $1.344bn worldwide.
Blue Sky Studios' Spies In Disguise has grossed $47.9m and debuts in Russia, Thailand, Poland, Turkey and Paraguay this weekend.
Fox's monster thriller Underwater starring Kristen Stewart debuts day-and-date with North America (where it is projected to open in the $10m region) in France, Germany, Mexico, Brazil, Indonesia and Hong Kong among roughly 20 markets.
Sony Pictures Releasing International Jumanji: The Next Level has grossed $617m globally and $374m internationally and should have enough of a spring in its step to leap close to, if not past, $400m. It will almost certainly cross that barrier by the time it opens in Spain on January 16.
Days after 1917 won Golden Globes for best drama and director Sam Mendes, the First World War thriller swings into action. Concurrent with its North American release are debuts in 21markets including the UK via eOne on behalf of Amblin Partners, as well as openings through Universal Pictures International in Australia and Spain, among others.
Observers expect solid business on 1917, which is forecast to hold well as strong word of mouth keeps a steady flow of mature audiences coming in and the film expands throughout February.
Comedy is notoriously difficult traveller but top brass at Paramount Pictures International will be hoping Like A Boss stars Tiffany Haddish, Rose Byrne and Salma Hayek have the magic touch when it opens day-and-date with North America in 11 markets including Middle East and India this weekend. The main roll-out is staggered and continues over the coming months. It opens in the UK on February 21.
Warner Bros Pictures International executives reported that Joker stands at $734.2m internationally and $1.068bn worldwide, while Clint Eastwood's drama Richard Jewell stands at an early $2.7m and ventures into Russia and China this weekend.