Dir/Scr: Khalo Matabane. South Africa/France. 2010. 77mins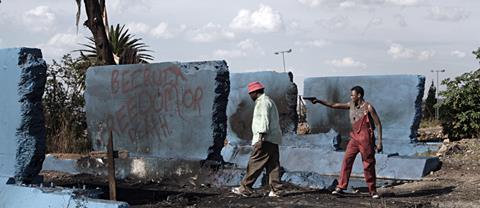 After opening last year's Durban festival and going on to play Toronto, Khalo Matabane's tough and dramatically focused South African township revenge tragedy continues its festival march in Berlin's Forum sidebar. Charting the long delayed payback that erupts into the life of a self-made businessman who, years before, was a township gangster, and set in a ghetto-culture South Africa where there's not a white face to be seen, this is a melodramatic but also strongly scripted moral tale that has more in common with contemporary Hong Kong cinema than the African or European arthouse.
Despite the revenge theme and chase structure this is a slow-moving film.
As a result this is not the easiest sell outside of its home territory, as it doesn't fit into an easy niche – the film's old-fashioned moral stance and slow pacing mean that it's not quite a cult South African Johnnie To number, but it may be too gritty and naif for regular cineaste audiences. Still, this is a well-made little film that packs an emotional punch, and it should somehow find an audience after its festival tour.
The film's flawed hero, prosperous and portly Bobedi (Mokoena), is a successful forty-something businessman who lives in a luxury gated villa with his wife Joy (Matshikiza). Their cosy loving relationship is too good to be true – we're forewarned by the film's title, and by an ominous opening flashback sequence featuring a township massacre and rubber-tyre necklacing. So it's no surprise when the couple come home one evening to find a masked gunman in their house (we can't help feeling it's odd that the clearly loaded Bobedi can't afford security staff for his villa, which is standard-issue in South African homes that broadcast the owner's wealth). Calling Bobedi 'Terror', the gunman kills Joy and flees.
We soon find out that 'Terror' was Bobedi's nickname as a young thug in the townships twenty years earlier (the reasons for his turn to violence, though they may be clear enough to South African audiences, are presented a little too eliptically for those not familiar with the motives and methods of the township violence of the 1980s and 1990s). We also find out from his tender-hearted younger brother Boy-Boy (Chweneyagae) that Bobedi and his elderly mother haven't spoken in years – because he refuses to apologise to her for his previous life as a killer.
Not trusting in the police, Bobedi decides to conduct his own investigation into his wife's murder. This takes him from gated ease and designer minimalism to the dust, chaos and colour of the township he grew up in (these scenes were filmed in Joburg's Alexandra township). After scoring some firepower from an old gangster acquaintance he meets up with characters from the past, including a former girlfriend and a friend who is now a borderline vagrant, but still professes himself better off than Bobedi. Bobedi has a bullish stubbornness to him and a headbutting aggressiveness; his only match is his elderly mother, all wounded dignity, who sends her son packing. Boy-Boy – played by Chweneyagae with a lip-trembling emotion that is just a little over the top – acts as the voice of his conscience, and will play a key role in the film's tragic denouement.
Despite the revenge theme and chase structure this is a slow-moving film, full of long pauses after significant lines, and wordless reaction shots. It's shot in a handheld style that gives immediacy to proceedings, and features some inventive sound design, especially towards the end – as outdoor footsteps are miked with indoor echoes, and voices off seem to come more from Bobedi's demon-tormented head than from the street.
Production companies: Dv8 Films (SA), Liaison Cinematographique (Fr)
International sales: Pyramide International, www.pyramidefilms.com
Producers: Michelle Wheatley, Jeremy Nathan
Co-producers: Diana Elbaum, Sebastien Delloye
Cinematography: Matthys Mocke
Production design: Carlu Portwig
Editor: Audrey Maurion
Main cast: Fana Mokoena, Presley Chweneyagae, Neo Ntlatleng, Lindi Matshikiza