Dir/scr. Rob Stefaniuk, Canada, 2009, 90 minutes.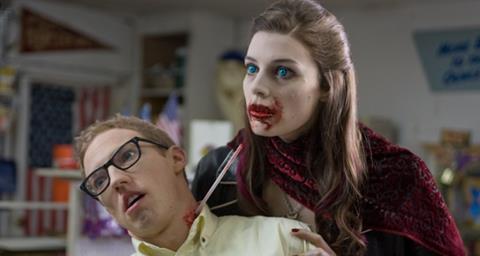 Suck takes the vampire genre to the world of talent-impaired rock and roll in Rob Stefaniuk's farce about a band of losers who find that bloodsucking is their best career move.
Gore effects, made for laughs, are as broad as the humour
Suck's wisecracking cast that includes aging rockers Alice Cooper and Iggy Pop, and Malcolm McDowell as a vampire hunter should connect with young audiences in the US and the UK (where it has been picked up by Universal Pictures International in a deal that also includes France and Australia/NZ). The band-on-the-road spoof with a twist on the munchies could be ideal for theatrical cult slots and late-night home video.
The band is The Winners, led by Joey (Stefaniuk himself). Broke and risking desertion by their manager (Dave Foley), they travel to gigs in a hearse, which "smells like drummer," gripes Joey's ex-girlfriend, bassist Jennifer (Jessica Pare). After a night with a goth lothario (Dimitri Coats) who turns out to be a vampire, Jennifer returns with a sexual glow and an insatiable appetite for blood.
Thanks to their star's makeover, the band's fortunes soar, and they toast that success in blood. They even dine on their rock misanthrope recording engineer (Iggy Pop), crowning their ascent into fame with an on-air attack on an abusive radio shock-jock (Henry Rollins). Corpses pile up as vampire hunter Eddie Van Helsing (McDowell) pursues the band carrying a flashlight (he's afraid of the dark), and the soundtrack pounds with tunes from Alice Cooper, David Bowie, Lou Reed – and Rob Stefaniuk.
Stefaniuk, a one-man band as writer, director, actor and author of seven of the film's songs, leavens the schtick of band humour with vampire lore. While his directing indulges hamming and hokey humour (as in his 2004 feature debut, Phil the Alien), the comedy has a raunchy warmth that could draw in the audiences of Michel Gondry and John Waters, plus fans of rock satires from This is… Spinal Tap to Airheads.
The script, with farce outweighing wit, is an outline for a string of gags, cameos and star turns by the ensemble cast's aging rockers, who don't need much makeup to look ghoulish. Stefaniuk, who plays a perennial failure, is his own script's whipping boy, and he wears the loser role well. As the vain skanky bass player who finds her true vocation lunching on the musical competition, Pare is wildly sexy in vampire-white pallor and throws back her lines with icy disdain.
Pare shares some of the film's best dialogue with the band's roadie, Hugo (Chris Ratz), a servile French-Canadian whose job is to clean up the blood, which coats him for much of the movie. The character – an update of the Frankenstein assistant, Igor — plays on politically incorrect stereotypes so heavily that it may challenge Suck in Canada's Quebec market. Anti-American mockery in scenes at US Customs and in dreary Buffalo across the border is a reminder of Canadian attitudes toward their neighbours.
Suck's production design is limited largely to dingy hotels and actual Toronto music clubs where you can smell last week's beer on the floor. Dutiful cinematography by D. Gregor Hagey fits with the tawdry music scene. Gore effects, made for laughs, are as broad as the humour, not a liability with this crowdpleaser's young public.
To sign up for Screen's weekly Reviews Newsletter with all the week's new releases, internationalopenings and full festival reviews delivered free to your mailbox every Friday, please click HERE
Production Companies/Backers
Capri Vision
International Sales
Joker Films
+ 1 416 535 1870
Producers
Robin Crumley
Jeff Rogers
Cinematographer
D. Gregor Hagey
Editor
Michele Conroy
Production Designer
Jim Goodall
Sound
John Laing
Keith Elliott
Music
John Kastner
Main cast
Rob Stefaniuk
Jessica Pare
Paul Anthony
Mike Lobel
Chris Ratz
Dimitri Coats
Dave Foley
Henry Rollins
Iggy Pop
Alice Cooper
Carole Pope
Alex Lifeson
Malcolm McDowell
Moby