Dir: Saul Dibb. UK-France. 2015. 107mins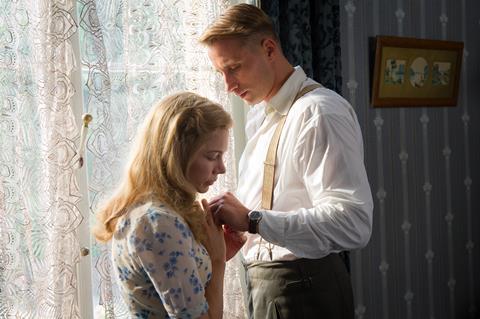 A lush and lingering romance that manages to make the most of the most unlikely and potentially controversial of relationships – that between a Nazi officer and a French woman against the backdrop of the German occupation - Suite Française ticks all the right boxes as a classy literary adaptation, favouring a heightened sense of soap opera romance over gritty drama.
While it flies close to Mills & Boon melodramatic schmaltziness at times, the sheer strength of the performances keep it from being overly simplistic and shrill.
The popularity of Irène Némirovsky's Second World War source novel could help the film click with literary-minded audiences, who should also warm to Saul Dibb's (The Duchess) elegant direction. Suite Francaise exudes a sense of glossy class in its design, staging and costumes and its lead actress Michelle Williams is especially fine, responding perfectly to a role that could have been tricky. As a sad and troubled woman who falls for a sensitive German officer (played by Matthias Schoenaerts), she is both sympathetic and convincing.
The story behind Némirovsky's book is as intriguing as the work itself and should provide additional publicity. A well-known author, she died in a concentration camp during the war, but had entrusted her notebooks to her daughters Denise and Elisabeth. Elisabeth died in 1996, but Denise never looked at the ledgers, believing them to be harrowing diaries. When she eventually read them she found they were the first two parts of a planned five-part novel.
The two completed novellas – Storm In June and Dolce – were combined and published as Suite Française in 2004, becoming bestsellers in France and around the world. The film adaptation starts during the fall of France in June 1940 with the bewildered population of the town of Bussy preparing for the arrival of a German battalion, many of whom will be billeted in their homes.
Lucile Angellier (Williams) is living with her austere mother-in-law Madame Angellier (Kristen Scott Thomas) while her husband is a prisoner of war. German officer Bruno van Falk (Schoenaerts) is sent to stay with them, and against this backdrop she begins to fall in love with the compassionate officer, confronting both the reality of her own unhappy marriage and her disillusionment with France.
Their burgeoning romance plays out against other issues in the community – ranging from tenant farmer Benoit (Sam Riley) who becomes a member of the resistance and local girl Celine (Margot Robbie) who has her own illicit relationship with a German, though to the local Viscount (Lambert Wilson) and Viscountess (Harriet Walter) who trade with the forces in exchange for favourable treatment.
The fact that Irène Némirovsky did not know the outcome of the War accounts for the pragmatic nature of the storyline, and, unusually for a war film, her attitude to how women dealt with their situations offers a unique perspective. The complexities of the interweaving relationships offer up a soap opera style structure, but at heart this is high drama and tortured romance, respectfully adapted to offer a balanced view of people living through a traumatic time.
Michelle Williams presents Lucile as a sad and rather lonely individual who feels a virtual prisoner in her tough mother-in-law's home and responds gradually to the sensitive German (he composes music and plays the piano) who is billeted with them. Belgian actor Schoenaerts strikes a perfect balance between well-groomed handsomeness and polite authority (he is no brutal Nazi), while Kristen Scott Thomas is – as expected – superbly steely and stern as a harridan of a mother-in-law.
At its core, this is a familiar tale of forbidden love, but its controversial wartime backdrop helps elevate the dramatic qualities, and while it flies close to Mills & Boon melodramatic schmaltziness at times the sheer strength of the performances keep it from being overly simplistic and shrill.
Production companies: Alliance Films, Qwerty Films, Scope Pictures, TF1 Films Production
Contact: TF1 International, www.tf1international.com
Producers: Xavier Marchand, Romain Bremond, Michael Kuhn, Andrea Cornwell
Screenplay: Saul Dibb, Matt Charman, based on the book by Irène Némirovsky
Cinematography: Eduard Grau
Editor: Christopher Dickens
Production designer: Michael Carlin
Music: Rael Jones
Main cast: Michelle Williams, Kristen Scott Thomas, Matthias Schoenaerts, Sam Riley, Ruth Wilson, Margot Robbie, Harriet Walter, Lambert Wilson, Eileen Atkins