Dir: Ole Christian Madsen. Denmark. 2011. 99mins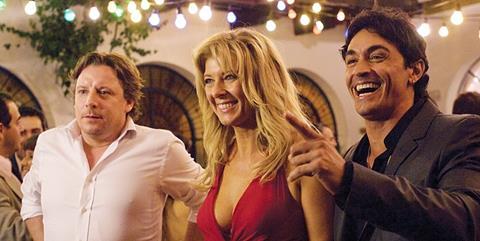 Having scored a blockbuster hit in Denmark with his historical adventure Flame & Citron, Ole Christian Madsen cements his commercial instincts with Superclasico, a likeable mainstream comedy set in Buenos Aires.
Superclasico pleasantly abandons romantic comedy convention and nothing happens as you'd expect.
The film was already a hit in Denmark after its March opening with more than 200,000 admissions at the local box office and had its international premiere at Toronto recently. Its crowdpleaser nature could put off arthouse buyers looking for critic-friendly art movies but it has a quirky sense of humour and unpredictable plot which could act in its favour, while the fish-out-of-water Argentina setting will resonate with any international viewer. Not that over-zealous Toronto festival audiences are the yardstick by which to measure the real marketplace, but it went down a storm with them.

The always excellent Anders W Berthelsen plays Copenhagen wine merchant Christian whose wife Anna (Steen), a football agent, has left him for a hunky young Argentinian soccer star and moved to Buenos Aires. Miserable, increasingly drowning his sorrows in wine and unable to relate to his morose son Oscar, he decides on a whim to go to Buenos Aires with Oscar (Morton) and win Anna back.

When they arrive, much to Anna's surprise and chagrin, Christian realizes he has a tough challenge ahead. She is living in a beautiful town house, is engaged to the soccer star Juan Diaz (Esevanez) and about to broker a deal for him to Sao Paulo for a fortune. Furthermore it's too hot and he can't stand the local wine.

Superclasico (named after a local football derby that divides the city) pleasantly abandons romantic comedy convention and nothing happens as you'd expect. Through a series of bizarre circumstances including a sexual affair with Anna's 70 year-old housemaid (Mascialino), Christian gets back on his feet and realizes that perhaps he wasn't suited to Anna in the first place. His rival Juan is played with great exuberance by the often naked Estevanez, and Steen is her ever watchable self. A subplot in which Oscar falls for a local girl adds to the romantic mayhem.

Production company: Nimbus Film

International sales: The Match Factory, www.the-match-factory.com

Producers: Lars Bredo Rahbek, Signe Leick Jensen
Executive producer: Bo Erhardt

Screenplay: Ole Christian Madsen, Anders Frithiof August

Cinematography: Jorgen Johansson

Production designer: Soren Schwartzberg

Editor: Soren Ebbe

Music: Jonas Struck

Main cast: Anders W Berthelsen, Paprika Steen, Jamie Morton, Sebastian Estevanez, Adriana Mascialino