Dir. Tim Burton, US, 2007, 105mins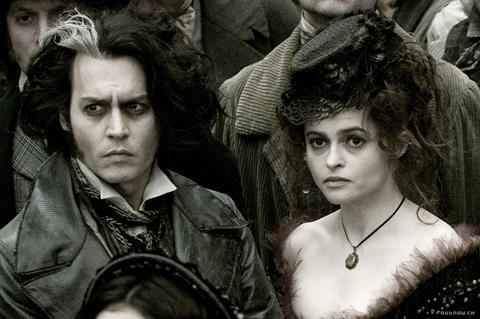 Tim Burton transposes Stephen Sondheim's operatic Sweeney Todd from the theatre limelight toagritty ' London ' of sound stages and computer-generated streets. There's plenty of blood, but farlessdread, in this version of the mad barber who slices up his customers to be baked into 'meat' pies
The gore factor further expands the young audience; Sweeney Todd will be one of this season's hits
The original musical has an army of fans worldwide, as does Sondheim, and those fans are likely to want to see Burton's film. Johnny Depp brings another fanbase and a whole new generation to the table, if only for the novelty of hearing him sing. The gore factor further expands the young audience; Sweeney Todd will be one of this season's hits. As the official screen version of Sondheim's musical, the film also has a guaranteed shelf life on video. Sweeney Todd will open in the North America on 21st December and roll out in most of the rest of the world in the new year, hitting the UK on 25th January.
With Dariusz Wolski's camera roaming seamlessly from computerized rooftops to live action, there's not much of the theatre in Burton's film of the Victorian tale. Barber Benjamin Barker, accompanied by young sailor Anthony Hope (Jamie Campbell Bower), returns from prison to his old shop above a filthy bakery, with his name changed to Sweeney Todd to avoid detection. Vengeance takes over when he learns of the abduction and rape of his wife and confinement of his daughter, Johanna (Jayne Wisener), by the corrupt Judge Turpin (Alan Rickman).
Burton has removed Sondheim's theatre chorus, a device that usually frames Todd's murders and revenge in narration. Shorn of that fatalistic vox pop, this version stresses close-ups and character, intermixed with the slimy splatter of throat-slitting. The unintended effect is more charming than sinister.
For his cast, which Sondheim approved, Burton went young. Depp and Helena Bonham Carter (as the scruffy love-lorn baker of men, Mrs. Lovett) look a generation younger than Angela Lansbury and Len Carrious, who played the principal roles onstage when the show opened. Even in Colleen Atwood's hip-grunge costumes, it's a stretch to see them as downtrodden souls weighed down from decades of toil.
Yet in John Logan's script, Sweeney Todd is more than a struggling ex-con. He's the aggrieved husband and father, a noble man abused by the powerful and blinded by vengeful wrath - a serial killer, but a victim all the same.
In another director's choice, Burton cast non-singers in his adaptation of Sondheim's most operatic of musicals. Depp and Rickman intone their lyrics like villains in a parable, with Rickman's guttural bass particularly haunting. Bonham-Carter has a flair for pies of dust and soot, but her small creaky voice doesn't put terror (or much of anything else) in your heart. The 'hole in the world that's a big black pit,' of which Sweeney Todd sings doesn't seem so threatening here. Where's the horror'
Rickman, usually a villain's villain, exudes venom when he lures the young sailor, Anthony, into his house, and then beats him bloody with house thug Beadle Bamford (Timothy Spall). Yet for most of the film, Rickman pulls his punches, posing rather than pummelling. Spall, though, oozes with grotesquery, like a smudged 19th century cartoon. In sharp contrast are the gallant Anthony and a stiff, virginal Johanna.
Another high point is Sacha Baron Cohen, as the mountebank Pirelli, a faux-Italian who hawks hair-growth tonic with campy majesty, assisted by blonde-wigged Toby (Ed Sanders). Pirelli turns darker when he reveals himself to be an East Londoner who tries to blackmail Todd, and becomes his first victim. In a wicked gag, all we see of him after meeting Todd and his razor is a hand protruding from the trunk where Todd stores his corpse.
Veteran production designer Dante Feretti gives early 19th century London a graphic-novel greyness, which looks a lot like the New York of Burton's The Legend of Sleepy Hollow, and even more like a video game. In Mrs. Lovett's bake shop, you can almost inhale the filth. Yet the rats underfoot have a Disney 'n Dickens feel, and Todd's barber chair, which springs back to send its bleeding sitter through a hole in the floor to the basement, makes you think of cute tricks in Charlie and the Chocolate Factory, another Depp/Burton collaboration.
Depp displays Pirates of the Caribbean swordsmanship (minus the camp) as he stabs his clients with a straight razor. The spurting red stuff, however, has more viscosity than credibility.
And credibility is this film's sticking point. Since Sweeney Todd premiered in 1979, screen serial killers have multiplied like so many disposable razors. Making the audience feel something more than the thrill of watching movie stars is the challenge here, and Sweeney Todd somehow cuts itself short.
Productions Companies/Backers
Dreamworks SKG
MacDonald/Parkes Productions
The Zanuck Company
US Distributor
Paramount Pictures
International Sales
Warner Brothers

Producer
John Logan
Laurie MacDonald
Walter F. Parkes
Richard D. Zanuck
Executive Producer
Patrick McCormick
Associate Producer
Derek Frey
Co-Producer
Katterli Frauenfelder
Screenplay
John Logan
based on the musical by Stephen Sondheim and Hugh Wheeler
Cinematography
Dariusz Wolski
Editor
Chris Lebenzon
Casting
Susie Figgis
Production Design
Dante Feretti
Set Decoration
Francesca Lo Schiavo
Costumes
Colleen Atwood
Main Cast
Johnny Depp
Helena Bonham Carter
Alan Rickman
Timothy Spall
Sacha Baron Cohen
Jayne Wisener
Jamie Campbell Bower
Laura Michelle Kelly
Ed Sanders