Dirs/scr: Ouchul Hwang, Ho Wen-shing. Taiwan-Japan. 2013. 100mins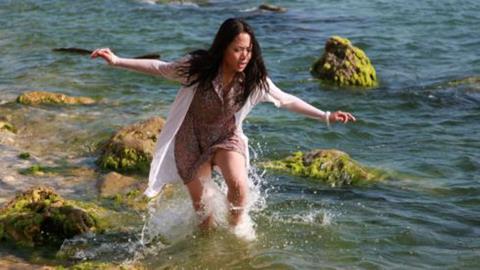 A romantic drama that is strong on style and French New Wave references, the ambitious co-production Takao Dancer (Da gou wu) is a film of mixed pleasures as it traces the interweaving relationship between three Taiwanese from their younger years to their more fraught adulthood.
It is a partly experimental film, but one that hints at talent to watch from the filmmakers.
This triangle of love and tragedy may well be a familiar tale, but director/screenwriters Ouchul Hwang and Ho Wen-shing combine well to come up with a film that it rich in melodrama, though rather lacks an emotional resonance. The film had its world premiere at the Tokyo International Film Festival.
Friends from childhood, Chi (Ed Pan), Yi (Kly Huang) and Kong (Yu-ting Kuo) are close, despite the fact that Chi and Yi are from poor families, while Kong is from a wealthy backgeound. When a plan to make money to try and help Yi's singing career goes badly wrong through no fault of his own Chi is goes on the run from murder, theft and arson charges.
As an adult he turns to using his diving skills to loot from shipwrecked vessels at the bottom of the Taiwan Strait, and finds himself hunted by Kong, now a police detective who lives Yi. Chi still loves and leaves notes from her, despite the fact she plans to marry Kong. The threesome meet again on a yacht after the wedding, where Chi plans to try and convince Yi to go with him.
The second half of the film is much more traditional in structure as the fateful coming together of the three old friends is set in motion, though the film can never really work out if it wants to be a crime thriller or a romantic melodrama, and varies its filmic style from abstract to in your face.
Takao Dancer does, however, look great and engagingly the soundtrack features several interpretations of House Of The Rising Sun as a musical motif. It is a partly experimental film, but one that hints at talent to watch from the filmmakers.
Production companies: Snowman, Herbian Food & Beverage Group, Kohei Ando Laboratory
Contact: Snowman Pictures, https://www.facebook.com/pages/ Snowman-Pictures/248727755197327
Producers: Ho Weng-shing, Hwang Ouchul, Miyaho Kobayashi
Executive producers, Bo-Wen Chen, Kohei Ando
Cinematography: Ho Wen-shing, Ouchul Hwang
Editor: Ho Wen-shing
Music: Dylan Taylor
Production designer: Ouchul Hwang
Main cast: Ed Pan, Kly Huang, Yu-ting Kuo