Dir: Michael Dowse. US. 2011. 97mins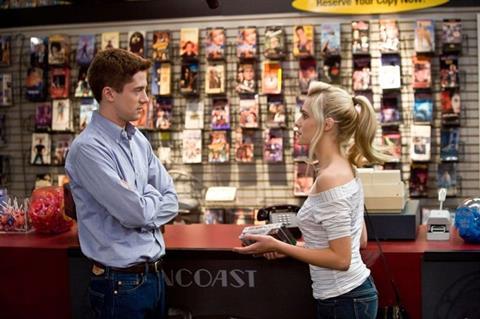 The crushing ambivalence of young adulthood gets blended together to moderately winning effect with a colourful 1980s setting and a conventional tale of romantic pining set against the backdrop of a single evening of partying in Take Me Home Tonight, an energetic and smartly cast comedy. At times its outlandishness toes the line between the ribald and contrived, but lively interplay and a great, evocative soundtrack more or less consistently impose a mood of effervescent, if slight, amusement.
The script is essentially about the panicked onset of a second puberty in its twentysomething characters.
Decent word-of-mouth will help Take Me Home Tonight connect with younger audiences to the tune of modest eight-figure grosses, though those expecting a more straightforward lampooning of 1980s movies will be disappointed.
The film unfolds in 1988, centering around Matt Franklin (Grace), a recent MIT grad who's returned home to Los Angeles, and taken a job at a video store while trying to figure out what to do with his life. When his unrequited high school crush, Tori Frederking (Teresa Palmer), wanders by and invites him to an end-of-summer party, Matt and his voluble best friend Barry (Dan Fogler), just fired from his job at an auto dealership, head out into the night to have a good time.
While Matt tries to figure out how to make a move on Tori, he also expresses concern to his twin sister Wendy (Anna Faris) over what he views on her part as an overly serious commitment to her simpleminded boyfriend Kyle (Chris Pratt). Antics then ensue, as they say.
Much of the dialogue, crafted by Jackie and Jeff Filgo, former small screen collaborators with Grace on That '70s Show, has a shaggy specificity that helps mark the film as a bit off-kilter, and not drab or corporate-vetted. Tori is sometimes referred to as "The Frederking," as if an object of worship placed high on a shelf, and Wendy and Kyle repeatedly share the same salty anecdote, in the way couples sometimes do, to explain to friends their decision to move in with one another.
The script — which is essentially about the panicked onset of a second puberty in its twentysomething characters, all experiencing occupational or personal malaise — also locates uncertainty in a nice cross-section of its characters.
If only the movie's second and third act pivots had a little bit of the sincere pathos and angst of something like Dazed and Confused, to give it any lasting emotional resonance, or if its direction was a little more snappy, to give the film lift separate and apart from its music cues. As is, Take Me Home Tonight locates deeper feeling only in fitful fashion, as its players part and reconnect at various times.
Palmer, a force to be reckoned with in I Am Number Four, exhibits a light charm and ease here, and Grace again showcases a preternatural gift for playing a sympathetic underdog. A gifted comedienne, Faris is a bit underused as Wendy; after a couple solid early scenes, the movie doesn't fully exploit the potential comedic friction of the twins' relationship. A handful of solid cameos, though, most notably by Demetri Martin, buoy the proceedings.
The film's production design is smart, and for the most part thankfully doesn't overdo its fashion choices for cheap sight gags and laughs, instead merely creating a backdrop. Finally, as mentioned, the soundtrack, packed with highly impressionable '80s tunes and supported by a synth-laden score from Trevor Horn, gooses one in pleasing ways.
Production companies: Rogue Pictures, Imagine Entertainment
US distribution: Relativity Media
Producers: Ryan Kavanaugh, Jim Whitaker, Sarah Bowen
Executive producers: Dany Wolf, Gordon Kaywin, Topher Grace, Tucker Tooley
Screenplay: Michael Dowse and Jackie Filgo & Jeff Filgo, from a story by Topher Grace & Gordon Kaywin
Cinematography: Terry Stacey
Editor: Lee Haxall
Production designer: William Arnold
Music: Trevor Horn
Website: www.IAmRogue.com/TakeMeHomeTonight
Main cast: Topher Grace, Dan Fogler, Teresa Palmer, Anna Faris, Chris Pratt, Michelle Trachtenberg, Michael Biehn, Lucy Punch, Michael Ian Black, Demetri Martin, Angie Everhart