Dir: Ben Falcone. US. 2014. 97mins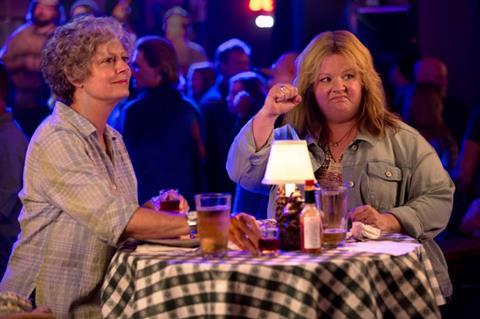 Only the faintest outline of something recognisably human is visible in Tammy, a tired, overwhelmingly lifeless and under-motivated comedy from co-screenwriters Melissa McCarthy and husband Ben Falcone that plays out as a slow, steady submergence into disappointment and depression given the much more sharply previously displayed talents of those involved. Trading in feeble characterisations, and mistaking clamorous incident and serial uncouth behavior for humour, this unfunny effort represents a step backward for its leading lady.
Sarandon garners the most screen time among supporting players, and her cheekiness and aplomb almost breathe dimensionality into her character — most memorably in a scene where she nastily verbally assaults her granddaughter in front of a large crowd.
Opening Stateside against family-oriented adventure Earth To Echo and a fellow R-rated film, the horror offering Deliver Us From Evil, Tammy will test the drawing power of McCarthy. In 2013, Identity Thief and The Heat each opened to more than $34 million, and ended up grossing between $134 and $159 million domestically. While Tammy will have a lack of direct comedy competition on either side of it by a couple weeks, lackluster word-of-mouth should make those same heights difficult to reach.
As its title and marketing campaign indicate, Tammy is a careening character study of sorts, of one coarse woman's flight from her problems. After a morning where she hits a deer with her car, gets fired from her job at a fast food restaurant and finds out her husband Greg (Nat Faxon) is cheating on her with their neighbor (Toni Collette), Tammy (McCarthy) sets off on a road trip with her alcoholic grandmother Pearl (Susan Sarandon). Considerable vehicular mayhem ensues, and further adventures find the duo crossing paths with father-and-son suitors, Earl (Gary Cole) and Bobby (Mark Duplass), before a misdemeanor arrest. The latter incident necessitates the assistance of Pearl's lesbian cousin, Lenore (Kathy Bates).
Tammy's problems have absolutely nothing to do with the fact it again finds McCarthy trading in her specialty, which is playing slovenly women who test various boundaries of social decency. "Dumb" comedy done smartly still has recognizable motivations for its characters. Tammy, the product of an original script by McCarthy and Falcone, has none.
Instead, the film embraces dowdy, purposefully unattractive costuming, but offers up no genuine exploration of its characters' unhappiness, or conflict. It's a full 40 minutes into the movie that there's first a recalled moment of discord between Tammy and Pearl; it's bracing, because it hints at what could have been. Alas, Tammy so lazily and infrequently touches on this divergence that there's no genuine fence to mend between the pair, just some haphazard scenes of dialogue scattered amongst a string of sloppy acting out. (There's not a fine-tuned sense of detail or character consistency, either; twice characters admonish others for foul language, only to use it themselves. If one is feeling generous, this could be a stab at genetic disconnect, but it's never really paid off and it just feels inattentive, the product of improvisational banter run amok.)
Tammy's technical credits are mostly bland. Apart from a finale involving Niagara Falls, first-time director Falcone does little to convincingly establish the sense of a real road trip, though Lenore's lakeside home gives the movie a pinch of production value. A couple sequences take advantage of wide framing, a traditional friend of comedy, but others are too closely edited. Falcone also pads his movie with several bits that serve no purpose and indeed defeat the scenes into which they feed, like McCarthy grabbing her crotch and dancing in a parking lot to Macklemore's "Thrift Shop."
Ever the game physical comedienne, McCarthy cycles through her repertoire of spitefulness and debasement. But it's only in one or two scenes with Duplass (who exudes a relaxed earnestness that is entirely out of step with the movie, if quite welcome) that she ever really locates anything honest about Tammy.
Apart from McCarthy, obviously, Sarandon garners the most screen time among supporting players, and her cheekiness and aplomb almost breathe dimensionality into her character — most memorably in a scene where she nastily verbally assaults her granddaughter in front of a large crowd. The film ultimately doesn't treat Pearl's alcoholism as anything more than a prop for physical comedy, however, so Sarandon's efforts don't go anywhere.
The rest of the cast, while peppered with recognisable faces (including Allison Janney and Dan Aykroyd as Tammy's parents, and Sandra Oh as Lenore's lover), are given absolutely nothing to do except serve up a couple wan set-ups for McCarthy. As such, they blend into the background, unmemorable.
The sole exception is Bates, who puts a wistful yet wise spin on a scene of tough-love advice following Pearl's aforementioned outburst. Watching this one brief sequence — which is more charged, real and interesting than anything else in the movie — one wishes they could leave Tammy behind, and instead spend time with Lenore.
Production companies: New Line Cinema, Gary Sanchez Productions, RatPac Entertainment, On the Ball Productions
Domestic distribution: Warner Bros. Pictures
Producers: Will Ferrell, Adam McKay, Melissa McCarthy
Executive producers: Toby Emmerich, Michael Disco, Richard Brener, Rob Cowan, Ben Falcone, Chris Henchy, Kevin J. Messick
Screenplay: Melissa McCarthy & Ben Falcone
Cinematography: Russ T. Alsobrook
Editor: Mike Sale
Production designer: Jefferson Sage
Music: Michael Andrews
Website: www.TammyMovie.com
Main cast: Melissa McCarthy, Susan Sarandon, Mark Duplass, Gary Cole, Kathy Bates, Allison Janney, Nat Faxon, Sandra Oh, Dan Aykroyd, Toni Collette, Ben Falcone, Sarah Baker, Rich Williams