Dir: Alexander Zeldovich. Russia. 2011. 154mins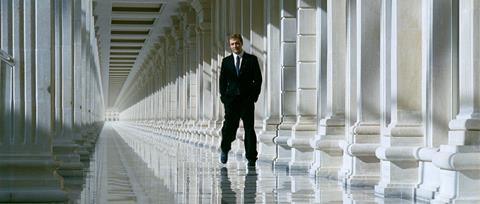 French critics often use the term 'UFO' to denote bizarre uncategorisable and unexpected films - in which case Russian futuristic epic Target (Mishen) is a UFO on the Independence Day scale. This bizarre offering from veteran director Alexander Zeldovich will strike many as a folly, but it can justifiably be tagged as visionary, with a boldly conceived dystopian vision dressed in elegant visuals that build up a thoroughly conceived imagining of the near future - with an unapologetically philosophical spin.
Target has some of the enigmatic Solaris magic, mixed with FX-era glitz, a combination it carries off with breathtaking flair.
Apt reference points might be Minority Report and Solaris, with side orders of The Matrix, Kubrick and even Fellini. The film deserves to acquire cult status at the very least, and while its more cerebral thrust might deter the straight sci-fi market, intelligent marketing could make it a niche hit with discerning audiences open to art-house/genre crossover.
The film is largely set in Moscow in 2020, a sleeker, shinier, CGI-enhanced version of the present. Future Russia is massively influenced by China, with a massive superhighway slicing the country, taking lorries direct from Guangzhou to Paris. And, as in the present, Russia society is divided between the poor and the outrageously wealthy.
Zeldovich's characters fall in the latter camp. Viktor (Sukhanov) is the middle-aged Minister of Natural Resources, who lives in luxury with his younger wife Zoya (Waddell). Able to afford the impossible, Viktor and Zoya head out on a journey to the Altai mountains where the super-wealthy can access the source of eternal youth - an abandoned astrophysics facility named the 'Target', where they expose themselves to cosmic rays.
Also in the party are Zoya's brother Mitya (Kozlovsky), a flashy TV host; Nikolai (Kischenko), an alpha-male customs official; and Anna (Stoyanovich), hostess of a Chinese-for-beginners radio broadcast. Returning to Moscow, the group find they have what they asked for - but with not entirely happy long term results.
Massive in conception, the film is an elusive hybrid - less conventional science fiction than a philosophical contemplation of the human condition, good and evil, power, desire and sex (of which there's a lot, between characters in various permutations).
This is a very Russian film - which means that characters are partial to reciting Lermontov poems. But amid the philosophy, there's some striking andspectacular future-world imagery, some bold, big-scale motorway action and even a run-in with Chinese gangsters.
An anomaly by Western standards, Target belongs in the great Russian sci-fi/art tradition of writers like Zamyatin and the Strugatsky brothers - not to mention of Tarkovsky. Sleeker and flashier than that great, Target nevertheless has some of the enigmatic Solaris magic, mixed with FX-era glitz, a combination it carries off with breathtaking flair.

Production company: Renfilm
International sales: Beta Cinema, www.betacinema.com
Produce:r Dmitri Lesnevsky
Screenplay: Alexander Zeldovich, Vladimir Sorokin
Cinematography: Alexander Ilkhovski
Editors: Neil Farrell, Andrei Nazarov
Music: Leonid Desyatnikov
Main cast: Maxim Sukhanov, Justine Waddell, Vitaly Kischenko, Danila Koslovsky, Daniela Stoyanovich, Nina Loschinina