Dir: Seth MacFarlane. US. 2012. 106mins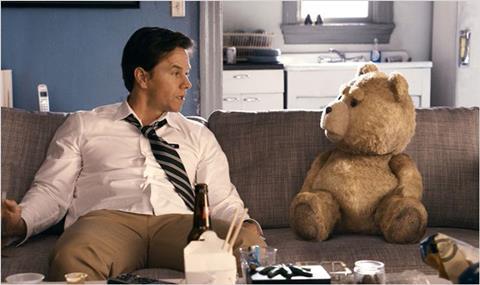 A film about the importance of putting away childish things, Ted is itself an immature comedy that boasts a clever premise but a rather sour spirit. This directorial debut from Seth MacFarlane, the creator of the successful animated sitcom Family Guy, incorporates that show's trademark un-P.C. humour, but its repetitive attempts to shock the audience through the antics of a living teddy bear with a dirty mouth get tired awfully fast.
Ted suffers from a bullying tone in which the targets of its pot-shots seem to have been singled out specifically to provoke an outraged reaction.
Opening June 29 through Universal, Ted will rely on Mark Wahlberg's box office appeal and MacFarlane's Family Guy fans to drive interest for this R-rated comedy, although no doubt all parties hope they'll have better commercial luck than this month's previous R-rated laugher, That's My Boy. A solid comedic hook — a boy and his beloved teddy bear grow up to become pot-smoking adults — should provide sturdy business, and one can assume that the unrated, extended-cut DVD will be a strong seller among MacFarlane devotees.
As the film opens, John (Wahlberg) has been best friends with his stuffed teddy bear Ted (voiced by MacFarlane) since he was a boy and made a wish that Ted would become real. Their bond becomes strained, however, when John's long-time girlfriend Lori (Family Guy cast member Mila Kunis) starts to think that Ted's layabout behaviour is stifling John's ambitions and threatening their romantic future. John will have to decide between his bear and his girl.
MacFarlane, who created Family Guy as well as co-created the animated hits American Dad! and The Cleveland Show, turns his attention to live-action for Ted, but otherwise this film's comedic temperament will be familiar to those who know his TV work. Mocking forced sentimentality and gleefully skewering sensitive subjects such as minorities and national tragedies, Ted very much wants to flaunt its offensiveness as a badge of honour. MacFarlane and his co-writers have come up with a great vessel for their satire — turning the innocence of a child's plaything into a randy, vulgar grownup — but once they establish their premise, the film is forced into a game of diminishing returns as they try to find more and more outrageous things for Ted to do.
As he demonstrated in 2010's The Other Guys, Wahlberg proves to be a game comedic presence, happily playing the slightly dim-witted John who's never been able to cut the cord with Ted, who was the one happy element from his childhood. But the problem is that Wahlberg tends to be only as funny as his material, and Ted more often than not leaves him to his own devices, which aren't adequate to generate significant laughs. The same goes for Kunis: She's a likeable actor but not one who can be counted on for sustained humour.
This leaves most of the comedy to fall on the digital shoulders of the CGI Ted, and it's indeed a splendid bit of effects work to make the teddy bear as real as he is. But unfortunately, as voiced by MacFarlane, the character is a one-note lout without the inspired spark that a John Belushi might have brought to the role. Rather than seeming charmingly incorrigible, Ted mostly comes across as a jerk, and his snide putdowns and sexual shenanigans lack any sort of rebellious energy.
As with Family Guy, Ted suffers from a bullying tone in which the targets of its pot-shots — fat kids, Katy Perry, Jews, the Bridget Jones films — seem to have been singled out specifically to provoke an outraged reaction. Throughout, Ted's humour mostly works on only one base level, and the filmmakers rarely bother moving away from their scattershot style to develop their story's potentially humorous complications.
As Ted's misanthropic spirit starts to wilt, it's held afloat a bit by funny supporting turns from Joel McHale as Lori's ultra-smarmy boss and Giovanni Ribisi as a creepy parent who will stop at nothing to kidnap Ted for his son. It should also be noted that there is one star cameo in Ted, but after the initial surprise fades, his appearance becomes a setup for some truly hackneyed gay humour. No doubt the filmmakers think it's all very edgy.
Production companies: Media Rights Capital, Fuzzy Door, Bluegrass Films, Smart Entertainment
US distribution: Universal Pictures, www.universalpictures.com
Producers: Scott Stuber, Seth MacFarlane, John Jacobs, Jason Clark
Executive producer: Jonathan Mone
Screenplay: Seth MacFarlane and Alec Sulkin & Wellesley Wild, story by Seth MacFarlane
Cinematography: Michael Barrett
Production design: Stephen Lineweaver
Editor: Jeff Freeman
Music: Walter Murphy
Website: www.tedisreal.com
Main cast: Mark Walhberg, Mila Kunis, Seth MacFarlane, Joel McHale, Giovanni Ribisi