A fictional TV soap opera is the backdrop for intelligent commentary on Israeli-Palestinian relations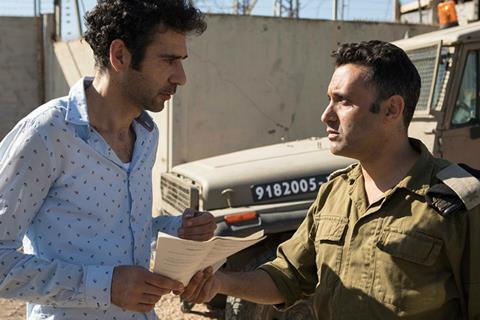 Dir. Sameh Zoabi. Luxembourg, France, Israel, Belgium. 2018. 97mins
Contemporary shades of Cyrano de Bergerac meet The Six-Day War in Tel Aviv on Fire, an entertaining satire on the state of Israeli-Palestinian relations told via the unlikely device of the beleaguered cast and crew of a cheesy nightly soap opera filmed in Ramallah. Wonderfully cast, Sameh Zoabi's zippy comedy takes clever basic ingredients and runs with them, affectionately lampooning stereotypical attitudes about Arabs and Jews and how each group supposedly demands to be depicted.
The storytelling is intricate but clear every step of the way
With plenty of agreeable suspense, relatable Middle Eastern grievances and consistent laughs, a lively life on the festival circuit is assured and theatrical distribution should follow.
Unambitious slacker Salam (Kais Nashef, who could be Liev Schreiber's Arab cousin), lives in Jerusalem but drives to the West Bank each day for his new job as a Hebrew-language advisor and lowly production assistant on the soap opera Tel Aviv on Fire, where his uncle is a top exec. The show, whose action is set in 1967 just before and during the Six Day War, is stilted and melodramatic but has a devoted following in both Israel and the Territories.
The film opens with an episode of the show in which French spy Tala, (Lubna Azabal ) meets with a Palestinian honcho in Paris (indicated by the so-so painted backdrop of the Eiffel Tower outside the flimsy window). Her mission is to seduce an Israeli Commander and get the Jews' military plans, killing him if necessary. Once the Jewish enemy is defeated, she and her Palestinian beau can get married.
Salam's innocent query to a female Israeli checkpoint guard as to whether it's a compliment or an insult in Hebrew to to say a woman's beauty is "explosive" is the wrong choice of words. Salam is hauled into the office of Israeli checkpoint commander Assi (Yaniv Biton). When an annotated script for the next day's show is found in Salam's car, Assi thinks he has an inside line to the showrunner and sees a way to impress his wife and other female relatives who love the show by giving them the advance scoop on which way the intrigue will go. Salam is not about to confess that he's a mere gofer.
Nicely modulated hilarity ensues, as each time Salam crosses the border he has to listen to Assi's pointers for making the show's Israeli General more appealing. He succeeds in getting a few details incorporated into the formerly anti-Semitic show. When the head writer quits in disgust over what she calls "Zionist propaganda", Salam gets promoted to the writing staff.
This would be great news if only he could generate ideas himself and write them down in script form. But he's completely dependent on Assi's pro-Jewish brainstorming. And when Assi – who has Salam's passport – demands that Salam guarantee a far-fetched plot development, rare indeed will be the viewer who can guess how Salam will extricate himself from an untenable situation.
The storytelling is intricate but clear every step of the way. The joke within a joke – that a crowd-pleasing film about a crowd-pleasing TV series can be an excellent vector for critiquing the stalemate in the Middle East – makes this a useful conversation starter as well as great fun. It certainly seems as if Salam is selling out to get ahead in showbiz, but he may have found his personal story arc instead.
Production companies: Samsa Film, TS Productions, Lama Films, Artemis Productions
International sales: Indie Sales info@indiesales.eu
Producers: Amir Harel, Bernard Michaux, Miléna Poylo, Gilles Sacuto
Screenplay: Sameh Zoabi, Dan Kleinman
Production design: Christina Schaffer
Editing: Catherine Schwartz
Cinematography : Laurent Brunet
Music: André Dziezuk
Main cast: Kais Nashef, Lubna Azabal, Maisa Abd Elhadi, Yaniv Biton