Dir/prod/scr. Souleymane Cisse. Mali-France. 2009. 140mins.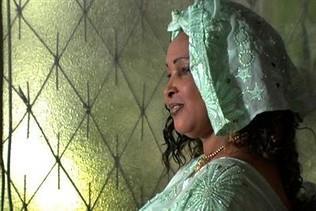 Polygamy and the double standards for men and women get a necessary drubbing in Malian director Souleymane Cisse's first feature set not only in an urban milieu, but also among the country's bourgeoisie. In Bamako, the nation's capital, the middle-aged wife of a polygamous husband takes a lover, in part because she is fed up with wife number two, who loves nothing more than a bitchy catfight.
One of the movie's attractions is its music, mostly indigenous songs and appealing melodies played on guitar and drums
Western aficionados of the director's work are accustomed to village locales, in which tribal rituals and lush textures provide an escape from our own rites and routines. Here, though, the lifestyle of the characters matches in many ways our own. Even in the best case scenario, this transposition of locale would hurt the arthouse prospects which stemmed from the otherness of earlier films. Tell Me Who You Are, however, fails to deliver much that's new to the battle of the sexes, despite tackling the issue of polygamy. In addition, few will respond to its visual murkiness and redundant scenes of the up-and-down relationship between the lead couple.
Mimi (Gakou) is a well-educated, successful government bureaucrat, a professional who works on economic development for this poor country. At 52, she is restless and begins an affair with Abba (Sissoko), a polygamist as well. Her husband Issa (Kouyate) is a renowned filmmaker whose current project mirrors the tensions he is experiencing with Mimi. She tries to divorce him, but he beats her to the punch by filing a grievance about her alleged liaison, something she emphatically denies.
The hypocrisy of his having multiple partners, no matter that they are legal, while she is expected to remain faithful never dawns on him, but then he is the product of a culture which has sanctioned multiple wives for males since ancient times. Mimi is a rarity, a woman in Malian society unafraid to break with tradition and speak her mind. She is quite the firecracker, holding back only when she uses her feminine allure to seduce her husband or lover.
A sub-theme of Tell Me Who You Are is how polygamy affects the relationship between females. A warm conspiracy exists between Mimi and some of her women friends, more charged perhaps than they would be in a society where women have more influence. On the other hand, as evidenced by the bitchy interaction between Mimi and Issa's second wife, it can breed hostility between the ladies, who vie for their husband's affection and financial status.
There is a class element as well: Mimi channels her anger and frustration toward the female servants who labour in her huge house (the wives have their own homes). All of the women in the film are much more interesting than the men. In fact, both Issa and Abba are dull. Cisse also touches upon Mali's warped network of connections which the privileged count upon to achieve their aims.
One of the movie's attractions is its music, mostly indigenous songs and appealing melodies played on guitar and drums. Visually, however, this film is not distinguished.
Production companies
Filimu Sise/Les Films Cisse
Canal + Horizon
International sales
Filimu Sise/Les Films Cisse
(22) 3 2022 3058
Cinematography
Fabien la Motte
Xavier Arias
Thomas Robin
Amaury Agier Aurel
Youssouf Cisse
Editors
Andree Davanture
Youssouf Cisse
Production design
Bakary Ouattara
Music
David Reyes
Main cast
Assane Kouyate
Sogona Gakou
Badra Alou Sissoko