Dir: Ken Loach. UK. 2012. 106mins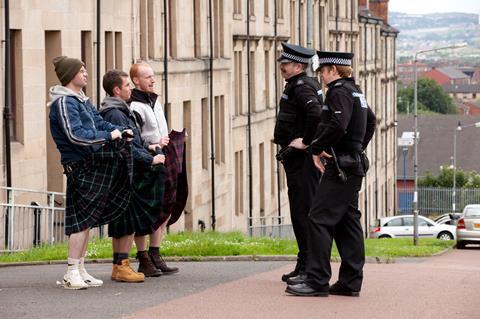 The tried and trusted partnership of Ken Loach and screenwriter Paul Laverty has created one of their warmest and most accessible films in The Angels' Share. The grim statistics behind Britain's "lost generation" of unemployed and unemployable young people have been transformed into a heartwarming, social-realist fairytale with enough rowdy humour and sweet sentiment to appeal to Loach's dedicated global followers and beyond.
The Angels' Share deftly balances heartbreak and hilarity to offer a cheering, feel good ray of hope from what often seem like the bleakest of lives.
A Cannes competition premiere will only elevate its profile before a domestic UK release on June 1 via Entertainment One. The Angels' Share marks a return to familiar territory for the Loach/Laverty partnership blending the gritty social concerns of a Sweet Sixteen with elements of the broad comedy and whimsy found in Looking For Eric.
The central figure of Robbie, impressively played by screen newcomer Paul Brannigan, could easily be related to Martin Compston's troubled, well-intentioned teenager Liam from Sweet Sixteen. Robbie is a volatile, hot-tempered thug who has spent a lifetime being told he will never amount to anything.
Barely escaping a prison sentence for a vicious assault, he is sentenced to 300 hours of community service where he meets sympathetic social worker Harry (John Henshaw). Robbie is devoted to his girlfriend Leonie (Siobhan Reilly) and his newborn son Luke, vowing to renounce his violent ways and make a fresh start.
Fate seems unwilling to afford Robbie a second chance but when Harry introduces him to the joys of fine malt whisky, he discovers a talent for spotting the subtle nuances of the drink and subsequently embarks on a caper that could allow him to escape the shackles of the past.
The Angels' Share is almost a film of two halves with the first half unsparing in its depiction of Robbie and his temper. A scene in which he is confronted by the victim of his crime is amongst the most powerful and moving in the film.
We are asked to believe that the birth of his son inspires a complete transformation in his character. The second half changes gears into lighter, Ealingesque territory as Robbie unites with his new community service chums Rhino (William Ruane), Albert (Gary Maitland) and Mo (Jasmin Riggins) to plot a daring raid on a Highland distillery.
Laverty's ear for salty dialogue is well displayed in some uproarious one-liners, mostly entrusted to Gary Maitland's deceptively slow-witted Albert who provides a good deal of the comic relief. Loach regulars like John Henshaw, William Ruane and Roger Allam as a slippery whisky specialist provide solid support and newcomer Paul Brannigan is sincere and entirely believable as Robbie, suggesting he has the potential to become one of the Loach discoveries who sustains an acting career.
The role of Robbie's almost saintly, long-suffering Leonie is the one that feels underdeveloped and the film shows a belief in broad brushstrokes storytelling and the uplifting power of a Proclaimers anthem that cynics might find easy to resist. They will be in the minority as The Angels' Share deftly balances heartbreak and hilarity to offer a cheering, feel good ray of hope from what often seem like the bleakest of lives.
Production companies: Sixteen Films, Why Not Productions, Wild Bunch
International sales: Wild Bunch www.wildbunch.biz
Producer: Rebecca O'Brien
Screenplay: Paul Laverty
Cinematography: Robbie Ryan
Editor: Jonathan Morris
Production designer: Fergus Clegg
Music: George Fenton
Main cast: Paul Brannigan, John Henshaw, Roger Allam, William Ruane, Gary Maitland, Jasmin Riggins, Siobhan Reilly