Dir/scr: Kadri Kõusaar. Estonia-Sweden. 2013. 103mins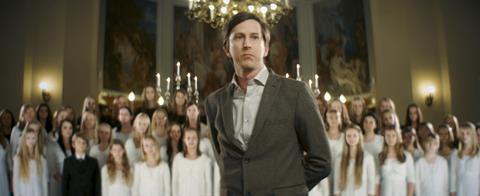 A morally complex and disconcertingly provocative film, Kadri Kõusaar's film is an elegantly shot English-language production that pulls no punches as its worryingly forthright 'hero' sets about following his own dark genetic agenda by killing off those deemed by him unworthy of life.
Kadri Kõusaar has crafted a provocative and often uncomfortable film.
This Estonian-Swedish co-production, which has opened in Estonia and also screened at the Karlovy Vary Film Festival, is deliberately a film to polarise audiences, and with its smartly used English locations, bleak humour and challenging story it is a film that could intrigue buyers as well as other film festivals.
As the film opens, academically sound and respectable John (Lee Ingleby) is summoned to a plush estate where his job is to provide sperm for a wealthy woman who wants a perfect child. Some 15 years later his great ambitions have faded and he works as a modest academic scientific researcher and his life is turned on its head when his pregnant fiancée announces she is leaving him and planning an abortion.
He takes a sabbatical and plans a road trip of sorts with Ronja (Lina Leandersson, from Let The Right One In), the daughter – from sperm donation – that he rarely sees but is still immensely proud of. But John has more than a road trip planned…he has been mulling over the notion of who should live and die and sees himself the arbiter of who is deemed worthy.
Initially his plans for dealing with those less able appears modest and almost amusing – he locks a wealthy man in the cellar (though we never actually see him) and plays classical music at a nightclub to the annoyance of young ravers – and while Ronja support his ideals her conviction tested when he essentially 'pimps' her to a religious pervert who he kills (with a slingshot) just as he is about to rape her.
For her things reach an extreme with his plans to gas a busload of mentally disabled aged people. He insists he isn't bigoted….simply making his own skewed moral judgment on a person's contribution to society. His God complex sees him finally judged – after a fashion – as he meets his own odd destiny at a remote retreat where a retired researcher friend lives.
In her second film – after Magnus in 2007 - Kadri Kõusaar has crafted a provocative and often uncomfortable film. Yes John is a narcissist (likely even a psychopathic one), but there will be those who agree with his brutal notion of genetic engineering. If the film succeeds in provoking moral indignation it will have partly done its job.
Writer/director Kõusaar makes great use of the often-bucolic English locations, with camera and music working well together to create a rather unsettling alternative look at England's green and pleasant land.
Production companies: Meteoriit Film OÜ, Anagram Produktion AB, F&ME
International sales: The Yellow Affair, www.yellowaffair.com
Producer: Aet Laigu
Executive producers: Armin Kõomägi, Martin Persson, Mike Downey
Cinematography: Jean-Noël Mustonen
Editor: Tambet Tasuja
Production designer: Liisi Eelmaa
Music: Bj Nilsen
Website: www.thearbiter.eu
Main cast: Lee Ingleby, Lina Leandersson, Andrea Lowe, Sofia Berg-Böhm,Tony Aitken