The Film Society Of Lincoln Center announced on Thursday the line-up of digitally remastered classics set to play at the 54th New York Film Festival from September 30–October 16.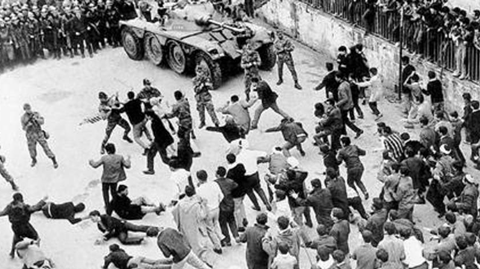 Among the Revivals section are Gillo Pontecorvo's NYFF opening night selection The Battle Of Algiers (pictured), Robert Bresson's L'argent, Marlon Brando's sole directorial effort One-Eyed Jacks, and Barbara Kopple's Oscar-winning chronicle of a Kentucky miners' strike, Harlan County USA.
Also screening are Tomás Gutiérrez Alea's depiction of the Cuban revolution, Memories Of Underdevelopment, as well as Edward Yang's Taipei Story.
Revivals will also feature Jacques Rivette's recently discovered and long-lost first three shorts films.
As previously announced, Ava Duvernay's The 13th will open the festival, while Mike Mills' 20th Century Women will be the centrepiece screening and James Gray's The Lost City Of Z will close the event.
To read the full Revivals programme click here.