Dir: Barry Battles. US. 2012. 99mins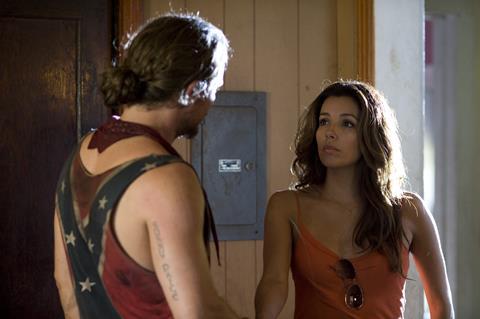 A bold, brassy and bloody grindhouse romp, The Baytown Outlaws is a violently funny red neck road trip that may be low on subtle dialogue but is a freewheeling entertaining romp that certainly delivers in terms of breathless B-movie action silliness. Heading straight to DVD in many territories after screening at several genre festivals, the film is due out on VOD early December in the US before a limited theatrical run in January 2013.
The film is engagingly deranged and has its share of wild and woolly moments.
The cast list may well be topped by Billy Bob Thornton and Eva Longoria, as well as being punctuated with a series of recognisable cameos, but at the heart of the violently wild story are Daniel Cudmore, Travis Fimmel and Clayne Crawford as the cheerfully murderous Oodie brothers.
Director and co-writer Barry Battles shows a strong sense of the clichéd Deep South to sustain the road trip excesses of the film, though at times misses a trick when it comes to the action scenes, breezing through them a little too quickly and delivering the body count but not the Tarantino-style wit and wisdom that the film calls out for. A modest budget may account for the set piece action scenes relying on gunplay rather than stylish action choreography.
Alabama brothers Brick (Crawford), McQueen (Fimmel) and Lincoln (the impressively hulking Cudmore) are hit men for hire, but after messing up their latest job they are approached by Celeste (Longoria). She will pay them $25,000 for the return of her godson Rob who is being held by her ex-husband Carlos. What she neglects to mention is that Carlos (Thornton) happens to be a ruthless mobster, and that Rob (Tomas Brodie-Sangster) is a grown-up and in a wheelchair.
The brothers find themselves on the run as Carlos sends an increasingly crazy series of killers on their trail…first they have to tackle a band of tough-as-nails super-sexy biker chicks (led by Tarantino's regular stunt woman Zoe Bell, who had a key role in Death Proof); a band of road warrior types in an armoured truck that could have featured in the Mad Max films, and the gang of Native Americans intent on scalping them.
The film – originally titled The Baytown Disco – is engagingly deranged and has its share of wild and woolly moments, though it makes the mistake of dispensing with the bad guys – especially the biker chicks and the road warriors – a little too quickly when they happened to be some of the most intriguing and oddball elements to the film.
Billy Bob Thornton has his fare share of great lines – and makes the most of them – while Eva Longoria's first scene wearing Daisy Dukes and a tight top will keep genre fans happy, though she is given very little esle to do. Daniel Cudmore, Travis Fimmel and Clayne Crawford are suitably grungy as the Oodie brothers who manage to raise their game from casual killer to almost anti-heroes, while Michael Rapaport and Zoe Bell help give the film a dose of familiarity and class.
The breezy soundtrack – which includes the likes of Clutch, Lynyrd Skynyrd and Grace Potter and the Nocturnals – should help the film's attempt at cult status, and while Barry Battles (in his feature debut) and his co-screenwriter Griffin Hood haven't quite cracked the Deep South action movie this time out there are at least moments of quirky pleasure in this red neck romp.
Production companies: LLeju Productions, State Street Pictures, Bearhood Productions
International sales: Highland Film Group, www.highlandfilmgroup.com
Producers: Robert Teitel, William O Perkins III
Executive producers: Thomas Busch, Mary Vernieu, Griffin Hood, Ryan Jones
Screenplay: Griffin Hood, Barry Battles
Cinematography: David McFarland
Editor: Sean Valla
Production designer: Monroe Kelly
Music: Christopher Young, Kostas Christides
Main cast: Billy Bob Thornton, Eva Longoria, Paul Wesley, Daniel Cudmore, Thomas Brodie-Sangster, Travis Fimmel, Clayne Crawford, Michael Rapaport, Zoe Bell, Andre Braugher, Julio Oscar Mechoso, Serinda Swan