Dir: John Madden. UK. 2011. 123mins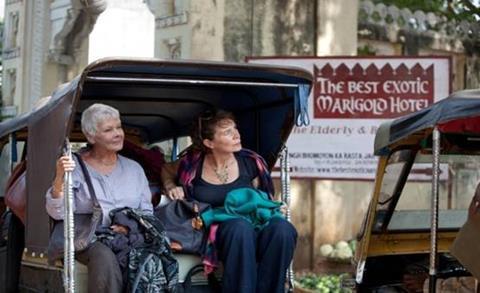 An unassumingly genial comedy-drama brimming with solid performances and making good – if a little heavy-handed at times - use of its bright and evocative Indian locations, The Best Exotic Marigold Hotel delivers carefully structured if hardly groundbreaking entertainment, with its sights set fair-and-square at the grey dollar as it aims to appeal at an audience likely not part of the popcorn guzzling multiplex generation.
For all its meandering and lack of focus it's a pleasant and gently enjoyable film.
With a strong cast headed by the likes of Judi Dench, Bill Nighy, Maggie Smith and Tom Wilkinson, the recognition value amongst older filmgoers (especially in the UK) will be high, though whether the film might not have served better as a stylish long-form TV series that had the time to make full use of the large cast and develop the characters better is a moot point. But director John Madden knows how the get the best from his highly skilled cast and the holiday brochure sense of the travel aspects are gently engaging.
The basic premise of a mixed band of British retirees heading off to India as a way of making more from their limited money and essentially outsourcing their retirement costs is a smart one, and the film makes no bones about portraying how bleak and miserable the prospect of a British retirement on little revenue. So when an advert for the newly refurbished The Best Exotic Marigold Hotel is spotted the concept for these adventurous-ish travelers is embraced…not completely wholeheartedly by all – but then needs must.
After being initially stranded at an airport, they manage to get on a bus – a handy way to leverage in more Indian footage – and make their way to the hotel, run by the ambitious Sonny Kapoor (Dev Patel), who has rather inflated the actual level of the refurbishment.
Their time at the Hotel sees them embrace the new culture and different environment in different ways. Widow Evelyn (Dench) loves Jaipur and takes a job helping call-centre workers; Graham (Wilkinson), a former judge seeks out his former gay lover who he was forced to leave as a youth; Muriel (Smith) an elderly and racist Londoner recovering from hip surgery is befriended by her carer and gradually is won over by the hotel; unhappily married couple Douglas (Nighy) and Jean (Penelope Wilton) argue over their new home – he loves India and she hates it; Madge (Celia Imrie) wants to track down a wealthy lover, while would-be lothario Norman (Ronald Pickup) pretends to be a wealthy man as he looks for a new partner.
The Best Exotic Marigold Hotel – oddly a rather unmemorable title despite its jaunty nature – is engaging in the rather simplistic way it presents the notion of embracing a new culture as a way of making a brave new life, and this adaptation of Deborah Moggach's 2004 novel These Foolish Things is charmingly presented (though there is perhaps too much footage of 'colourful and exotic' India ) with the comedy deftly weaving with the modest dramatic aspects.
At times the script veers rather close to by-the-numbers Brits abroad routines, especially when it comes to the comedy, but these actors are complete pros and manage to get away with lines and scenes that might be supremely clichéd in the hands of other performers.
Judi Dench – as is so often the case – is terrific as the genial and open-minded retiree who finds a new lease for life in India and embraces the possibility of working at a call-centre helping young workers in their dealing with Brits back in the home country, and her tentative relationship with Bill Nighy's genial married man is nicely staged. Nighy is brimming with his usual mannerisms, though he does tone things down a little.
The rest of the cast flit in and out – plus there is a sub-plot about Sonny Kapoor's girlfriend and his disapproving mother that rather hanpers the flow – and make varied kinds of impact. There is no denying how watchable and impressive the likes of Penelope Wilton, Celia Imrie and Ronald Pickup are, simply that their stories never really grip as the film weaves its way to a rather old-fashioned (which in many ways suits the film) romantic ending. Running over two hours, The Best Exotic Marigold Hotel perhaps overplays the picture-postcard moments, but for all its meandering and lack of focus it's a pleasant and gently enjoyable film.
Production companies: Participant Media, Blueprint Pictures, Imagenation Abu Dhabi FZ
Distribution: 20th Century Fox/Fox Searchlight
Producers: Graham Broadbent, Peter Czernin
Executive producers: Jeff Skoll, Ricky Strauss, Jonathan King
Co-producers: Caroline Hewitt, Sarah Harvey
Screenplay: Ol Parker, based on the novel These Foolish Things by Deborah Moggach
Cinematography: Ben Davis
Editor: ChrisGill Williams
Production designer: Alan MacDonald
Music: Thomas Newman
Main cast: Judi Dench, Bill Nighy, Penelope Wilton, Dev Patel, Celia Imrie, Ronald Pickup, Tom Wilkinson, Maggie Smith, Lillete Dubey, Tena Desae