Angelina Jolie executive-produces an animated adaptation of the beloved novel by Deborah Ellis
Dir. Nora Twomey. Canada/Ireland/Luxembourg. 2017. 93 minutes.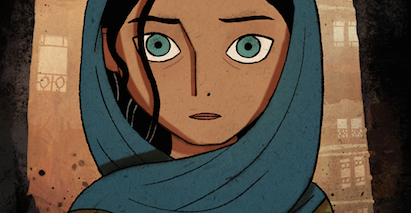 A grave, solemn animated feature set in a Kabul terrorised by external and internal forces, The Breadwinner is an adaptation of the much loved children's novel by Deborah Ellis about a young girl who is forced to disguise herself as a boy in order to fend for her family. Exquisite images play out against a traumatising background of endless war in the first solo feature from Cartoon Saloon's Nora Twomey, who co-directed Oscar-nominated The Secret Of Kells in 2009.
Parvana's eloquent eyes convey the tragedy of a land under siege, and the terrible fate which befalls each family member in turn is beautifully animated.
With Angelina Jolie amongst the executive producers, it's not impossible to imagine that The Breadwinner will reach for the same goal as Kells; its subject matter and bravura technical skill should mark it out. But Twomey's mastery of colour and exquisite blend of traditional Afghan-inspired imagery with cel animation tecniques is not matched by such a confident command of tone, which rarely shifts out of a single mournful register.
A quest story-within-the-film which might have alleviated the constant air of oppression is not light enough to give it the film the contrast it needs and an uncertain commercial future beckons for this rather severe, at-least-over-10s film as a result. However, the sheer artistry of The Breadwinner should be enough to secure it wide play in festivals and educational events.
The Breadwinner is centred around spirited young 11 year-old girl Parvana, who sells her family's goods – and her ability to read and write – on the dusty street with her father, who lost a leg in the Russian invasion. Being so young, Parvana is just about tolerated by the Taliban's religious police, but her mother and older sister must stay inside the house with their toddler brother.
It's a life of repression and fear and a cycle of war for land-locked Afghanistan. The family's one escape is storytelling, so important to their father, a former teacher. When he is picked up by the police and imprisoned on a pretext and her mother is badly beaten up by the Taliban, spirited Parvana carries on by telling a story about the adventures of a boy called Sulieman and a menacing elephant king to her young sibling.
While sequences involving Parvana and her family are rendered in 2D cel animation in smooth digitally-painted environments, this quest story is comprised of paper cut-outs, and it's a joy whose colours breaks up the dust of the Kabul interludes. Yet it mirrors the same fatalistic, oppressed trajectory as Parvana's anguished real life, as opposed to providing relief. With the family lurching from terror to tragedy, it's a difficult piece for young audiences, even adults.
Yet there is much that to admire in Twomey's accomplished film. Parvana's eloquent eyes convey the tragedy of a land under siege, and the terrible fate which befalls each family member in turn is beautifully animated. The characters' faces are finely drawn, completely eloquent with only a few brief lines, and Parvana's friendship with another girl who has also been forced into this double-life is suitably touching.
Production companies: Aircraft Pictures, Cartoon Saloon, Melusine Productions
International sales: WestEnd Films
Producers: Anthony Leo, Andrew Rosen, Paul Young, Tomm Moore, Stephan Roelants
Executive producers: Angelina Jolie, Gerry Shirren, Mimi Polk Gitlin, Jon Levin, Regina K. Scully, Eric Beckman, David Jesteadt, Mary Bredin, Frank Falcone, Karim Amer, Jehane Noujaim
Screenplay: Anita Doron, based on the novel by Deborah Ellis
Editor: Darragh Byrne
Production designers: Ciaran Duffy, Reza Riahi
Music: Jeff Danna Mychael Danna
Main voice cast: Saara Chaudry Soma Chhaya Laara Sadiq Shaista Latif Ali Badshah Kawa Ada Noorin Gulamgaus