Dir: Felix van Groeningen. Belgium. 2013. 109mins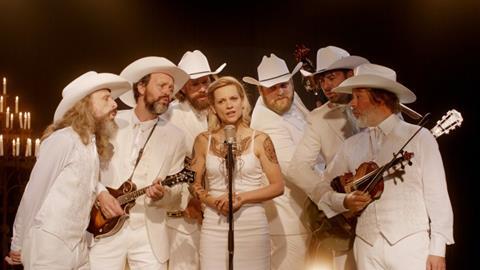 A sure-fire, tear-jerking, audience pleaser, the engaging and moving Belgian film The Broken Circle Breakdown wears it heart resolutely on its sleeve, blending love, friendship, grief and drama with some romping and rousing bluegrass tunes. Felix van Groeningen's moving drama has already been a local success, and has the heart and soul to click with international audiences.
The non-linear structure allows Felix van Groeningen to gradually flesh out his characters and the ups-and-downs of their lives.
What could have been a rather straightforward – and possibly overwrought – drama is given pathos and passion by Nico Leunen's astute editing which weaves the story back and forward through the years, gradually revealing key aspects to the story and developing the characters. Plus the striking lead performances by Veerle Baetens and Johan Heldenbergh are delivered with real passion, with Baertens especially showing real star quality.
The film opens with the tear-jerking drama front-and-centre. At a hospital parents Didier (Heldenbergh) and Elise (Baertens) are having to adjust to grim reality that their six year-old daughter Maybelle (Nell Cattrysse) is suffering from a terminal illness. The story them flips back seven years – and continues to skip back-and-forth – as it fleshes out the story of Didier and Elise and their years together.
He is a bushy-bearded cowboy who fronts a bluegrass band while she is a prodigiously tattooed blonde. Before long their spirited sexual relationship has developed into something more intense and she starts singing with the band. Before you know it, she is accidentally pregnant – he initially has problems dealing with the realities and responsibilities, but soon embraces the concept and starts renovating the Flemish farmhouse they share.
The non-linear structure allows Felix van Groeningen to gradually flesh out his characters and the ups-and-downs of their lives. The film interlaces Maybelle's happy upbringing and subsequent chemotherapy treatment; footage of the band performing at various venues, and the first time that Didier and Elise meet in her tattoo shop.
There are a few false notes – his clichéd proposal to her on-stage while the band is performing and an angry anti-religious, anti-American rant he delivers mid-concert jar rather than help the structure – but these never really detract from the core strengths of the film and its moving story.
The key characters are nicely drawn, and even though the rest of the band are never really given a chance to develop, though there is a real sense of warmth between them all, especially in a warm-hearted scene where they all sing The Lion Sleeps Tonight at a surprise party for Maybelle after her first dose of chemo. In fact the music sequences are all nicely staged, and a lot of effort is put in to sustain the notion that these bearded Belgian guys feel a sympathetic link to the roots of bluegrass.
Production company: Menuet & Topkapi Films
International sales: The Match Factory, www.the-match-factory.com
Producer: Dirk Impens
Co-producers: Laurette Schillings, Arnold Heslenfeld, Frans van Gestel
Screenplay: Carl Joos, Felix van Groeningen, based on the play The Broken Circle Breakdown Featuring The Cover-Ups Of Alabama, by Johan Heldenbergh and Mieke Dobbels
Cinematography: Ruben Impens
Editor: Nico Leunen
Production designer: Kurt Rigolle
Music: Bjorn Eriksson
Main cast: Johan Heldenbergh, Veerle Baetens, Nell Cattrysse, Geert Van Rampelberg, Nils De Caster, Robby Cleiren, Bert Huysentruyt, Jan Bijvoet