Dir: Drew Goddard. US. 2012. 94mins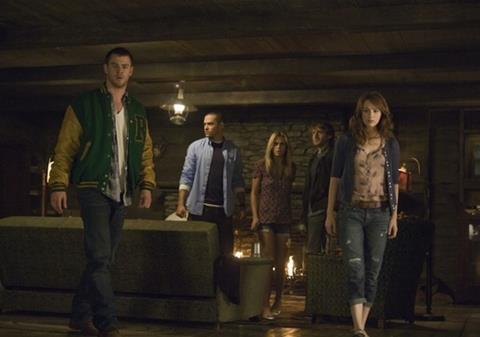 The sublimely scary The Cabin In The Woods is a film that revels in its secrets and twists. It bears all the screenwriting hallmarks of Joss Whedon at his Buffy The Vampire Slayer best. Slick, thrilling and genuinely satisfying it is a film that will hit the right buttons for horror fans and should also appeal to audiences seeking old-fashioned thrills.
It is a tough trick to make a film as complex and unusual work….but is a trick that Joss Whedon and Drew Goddard pull off with aplomb.
The film marks the directorial debut of Drew Goddard, who co-scripted the project with Whedon. Goddard has scripted episodes of Buffy, Angel, Alias and Lost, and also wrote sci-fi thriller Cloverfield. The shared horror sensibilities of Goddard and Whedon dovetail perfectly in The Cabin In The Woods, which opened SXSW, and seems likely to open well in a marketplace always keen for the next fix of genre chills.
Strong production values, dynamic performances, a clever and witty script and a playful determination to turn the horror genre on its head and spin it around a good deal combine to deliver a film that defies easy definition and more frustratingly is almost to impossible to describe the plot in detail without giving away the joyously chilling twists and turns that are the core of the story.
The short synopsis provided by Lionsgate pretty much describes the film succinctly. "Five friends go to a remote cabin in the woods. Bad things happen".
The five buddies who head off in a minivan into the woods with partying on their minds are nicely drawn characters who easily fit into the expected clichés of youngsters out for a good time. Hunky jock Dana (Thor star Chris Hemsworth) is the red-blooded leader of the gang, with blonde Jules (Anna Hutchison) his sultry girlfriend. Holden (Jesse Williams) is the smart black athlete while Dana (Kristen Connolly) is the shy bookish girl taken with him. And last – but not least – Marty (Fran Kranz) is the wisecracking stoner slacker.
Their drive to the cabin in the woods takes them via the obligatory ramshackle rural gas station, overseen by clichéd red neck gas pump attendant (who is not quite as he seems), before they head through a cliffside tunnel and eventually on to that there ominous cabin.
Once there, things turn serious weird and Whedon and Goddard set about turning the horror genre inside out, as two-way mirrors, zombies, magic spells and good old modern-day technology come into play as it turns out that this remote cabin is not at all as it seems. To give away the twists and secrets would be to do a disservice to the wild and wonderful revelations that litter the film as it spirals to an apocalyptic climax.
Fans of Buffy The Vampire Slayer will sense that The Cabin In The Woods is to a certain extent a freewheeling big-budget variation on some of the best moments from that series, driven by some smart and often laugh-out-loud dialogue and peppered with truly delicious moments. Kristen Connelly and Fran Kranz are especially good as the more unlikely heroes drawn together in the face of supernatural adversity.
Richard Jenkins and Bradley Whitford have perhaps the most fun in the whole, but again to describe what their characters are up to would give away the plot of the film. Needless to say their scenes are quite darkly delightful, and nicely aided by a smart turn by Amy Acker (who starred in Buffy spin-off Angel) as one of their white-coated work-colleagues.
Drew Goddard handles his directorial debut with ease and benefits from stylish cinematography from Peter Deming and impressive production design from Martin Whist. Despite the fact the film is dialogue and effects driven the design of the film smartly pulls together the familiar horror elements of red neck danger, monsters'n'demons and high-tech chills. It is a tough trick to make a film as complex and unusual work….but it is a trick that Joss Whedon and Drew Goddard pull off with aplomb.
Production companies: Mutant Enemy, AFX Studios, MGM, United Artists
Distribution: Lionsgate
Producer: Joss Whedon
Executive producer: Jason Clark
Screenplay: Joss Whedon, Drew Goddard
Cinematography: Peter Deming
Editor: Lisa Lassek
Production designer: Martin Whist
Music: David Julyan
Website: http://discoverthecabininthewoods.com
Main cast: Chris Hemsworth, Kristen Connolly, Fran Kranz, Richard Jenkins, Bradley Whitford, Anna Hutchison, Jesse Williams, Brian White, Amy Acker