Dir: Brad Anderson. US. 2013. 94mins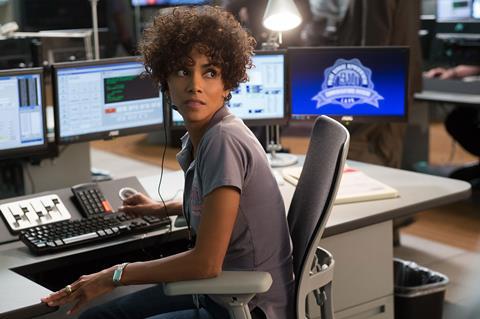 Cop thrillers are ubiquitous, but it's fairly rare to see a movie that takes as its primary focus other emergency responders. That novelty is but one of several factors that help distinguish and elevate The Call, an enjoyably nerve-racking thriller of imperilment that takes as its heroine a distraught 911 call center operator. Solid performances by Halle Berry and Abigail Breslin abet a rigorous, smart packaging from director Brad Anderson, delivering good, popcorn-level tension and thrills.
The Call also delivers a nice end twist that isn't so much a wild revelation as just a little spiky add-on of moral ambiguity.
Opening wide this week against comedy The Incredible Burt Wonderstone, The Call should ring up modest box office; it could well be hurt by relatively low P&A punching power and a sense of limited, gender-based appeal. Solid word-of-mouth will burnish its reputation and enhance its ancillary value, however, where it will see most of its returns.
When Los Angeles emergency operator trainer Jordan Turner (Berry) jumps on a phone call to help calm a panicked teenage girl, it turns out to be a victim of the same predator (Michael Eklund) who six months earlier Jordan was unable to stop. With Casey Welsen (Breslin) in his trunk, the serial killer avoids the intrusion of an inquisitive Good Samaritan, towncar driver Alan Denado (Michael Imperioli).
Unbeknownst to him, however, Casey has a second cell phone. With this, Jordan is Casey's lifeline, running through gambits with her to try to tip off passers-by while also working with police officers (Morris Chestnut and David Otunga) to try to pin down Casey's moving location. When her shift ends with still no resolution, Jordan strikes out to try to pin down the sort of closure that by definition typically eludes her in her job.
Much of the enjoyment of The Call is not necessarily in what happens, so much as how it happens. In work like Session 9, The Machinist, Vanishing on 7th Street and more, director Anderson has shown an acute sense of and talent for orchestrated unease. That savvy manipulation of mood is on display here as well.
Working with cinematographer Thomas Yatsko, Anderson utilizes intense close-ups and occasional blinking freeze-frames during moments of threat and violence to underscore the movie's stress reactions. The latter technique gives the material a sense of psychological schism, along with a well-colored motivation that hints at the killer's backstory without quite coloring it all in. Oscar-winning sound editor Lon Bender, credited with sound design and supervision, also delivers a compelling, complementary aural package.
Richard D'Ovidio's screenplay manages to compress events in solid fashion and come up with some worthy moments of squirm-inducing direct confrontation, while also allowing for affecting character moments; Casey's tearful words of what she believes to be a goodbye to her mother are sure to raise a lump of genuine feeling in the hearts of many viewers.
Both actresses give highly sympathetic turns. Berry is dialed in and forceful. Little Miss Sunshine star Breslin, now 16 years-old, continues to mature into a fine young actress. Hearteningly, she is a participant in her own struggles here, and not merely a crying victim, though there is certainly a lot of that.
Further adding to its differentiation, The Call also delivers a nice end twist that isn't so much a wild revelation as just a little spiky add-on of moral ambiguity. This is pop Hollywood filmmaking done right — a stirred cocktail of tension, with the ability to also actually spark a conversation.
Production companies: TriStar Pictures, Stage 6 Films, Troika Pictures, WWE Studios, Amasia Entertainment, Apotheosis Media Group
Domestic distribution: Sony Pictures
Producers: Jeff Graup, Michael Luisi, Michael Helfant, Robert L. Stein, Bradley Gallo
Executive producers: William C. Gallo, Philip M. Cohen, Dale Rosenbloom, Guy Louthan
Co-executive producers: Allen Church, Alberto Raposo De Oliveira, Carlos Alberto De Oliveira Jr.
Screenplay: Richard D'Ovidio, based on a story by Richard D'Ovidio & Nicole D'Ovidio & Jon Bokenkamp
Cinematography: Thomas Yatsko
Editor: Avi Youabian
Production designer: Franco G. Carbone
Music: John Debney
Website: www.Call-Movie.com
Main cast: Halle Berry, Abigail Breslin, Morris Chestnut, Michael Eklund, Michael Imperioli, David Otunga, Roma Maffia, Jose Zunia