Dir/scr: Kirk DeMicco, Chris Sanders. 2013. US. 90mins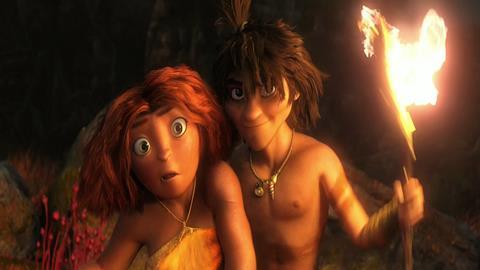 The Croods will determine whether the marketplace has room for a new 3-D computer-animated Stone Age comedy. Its premise may be harder to defend – that human civilisation began with what sounds a lot like a typical American family. Despite its title, the comedy plays less on grossness than Shrek, a prodigious moneymaking franchise at DreamWorks. The Croods aims at children who are younger than Shrek's public with its corny jokes, lovable animals, and the kind of sexless teenagers whom much younger kids would like to be.
The Croods evokes the memories of The Flintstones, in which gags transposed the post-war American life of cars, hair-dryers and phonographs onto the Stone Age.
If its dialogue is tepid, its physical comedy is lively, sometimes with real imagination in its colour palette and the odd animals that populate its 3-D landscapes. The Croods can also tell its story effectively without subtitles, an asset in the family market worldwide. If the film works, sequels could make it another profit centre for DreamWorks. No surprise, the six Croods (plus a boy picked up along the way) all look like retail-ready toys.
Named for a family, The Croods evokes the memories of The Flintstones, in which gags transposed the post-war American life of cars, hair-dryers and phonographs onto the Stone Age. Here, the script by Kirk DeMicco and Chris Sanders begins with cave life, with the lament from the adventurous teenaged Eep (spoken by Emma Stone) that hiding away from predators is boring. That struggle to avoid being eaten, handled gently by the animators – "pets are animals who don't eat you" - is the closest thing to reality in this motivational fantasy. Not too close, however, when the theft of a giant egg and the family's dash back to their cave resembles a sprint down a long prehistoric rugby pitch.
The drama heightens when tectonic plates shift and The Croods become homeless. Amid thick vegetation and new predators – sabre-tooth tigers and glimmering schools of red piranhas – they meet young Guy (voiced by Ryan Reynolds), who advises them to rely on their wits. The earnest former hunters discover fire and plants, and soon domesticate bizarre animals. All that's missing are the Boy Scout uniforms.
The dialogue isn't much here – some teenage jokes, ribbing of Crood father Grug (spoken by Nicholas Cage) by his wife (Catherine Keener) and mother (Cloris Leachman), and a hapless fat son lifted from King Of The Hill (Clark Duke). The script stays safely within the wholesome Disney-esque vein, with nothing too frightening for a five year-old, closing with a motivational song that penguins might sing at a theme park exit. The once-overprotective Grug exhorts his family to "take risks," sounding like a Republican politician on the stump.
Still, Cage brings an unexpected range and a sense of fun to his role. More voice work won't hurt his reputation. Who knew that Cage would be a convincing Neanderthal? Stone, voicing a character younger than her age, adds attitude to the image of a headstrong girl in a strapless animal skin mini-dress. While Eep has the body type of a sexy troll doll, the ripped Guy, the boy who knows how to make fire, is toned to suggest that the animators parachuted personal trainers into the Stone Age.
Music by Alan Silvestri could fit a documentary on sports achievement, ideal for parents who want their kids to outrun monsters and solve problems.
Production companies: DreamWorks Animation
International distribution: Twentieth Century Fox
Producers: Kristine Belson, Jane Hartwell
Art director: Paul Duncan
Production designer: Christophe Lautrette
Editors: Darren Holmes, Eric Dapkewicz
Main cast (voices): Nicholas Cage, Emma Stone, Ryan Reynolds, Catherine Keener, Cloris Leachman, Clark Duke