Dir: Fatih Akin. Germany-France-Italy-Russia-Poland-Canada-Turkey. 2014. 138mins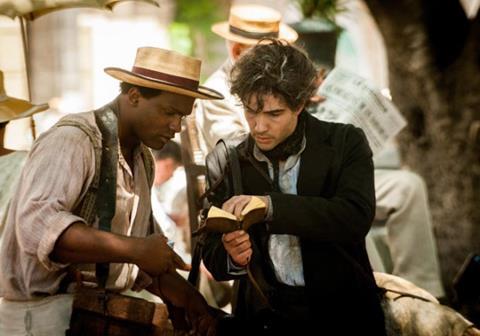 German-Turkish filmmaker Fatih Akin takes on the Armenian genocide in a sprawling historical epic that is both politically committed atrocity drama and Western-tinged émigré odyssey. Owing a declared debt to Elia Kazan's Turkish emigration tale America, America, this lavish seven-territory co-production stars A Prophet's Tahir Rahim in his first unabashedly commercial role as a father looking for the twin daughters he was separated from during the persecutions of 1915.
Rahim's honest performance as an innocent whose everyman survivor status is too obviously flagged by a Charlie Chaplin silent-film screening he attends in Aleppo is not enough to redeem this well-made, worthy, wandering epic.
The Cut is a tribute to old-fashioned filmmaking values in its confident widescreen look and detailed, cast-of-hundreds historical reconstructions: every frame declares war on cinematic austerity. And yet despite the heady sweep through ten years and two continents, and the (surprisingly muted) emotional catharsis of the quest plotline, there's something about the film's generous old-school spend that leaves us feeling short-changed.
Much of the problem is the main character, Nazaret, who is in every scene: he's a pleasant, unremarkable everyman, whose one quality is a stubborn survival instinct and the determination to get his family back. The director's (producer-prompted?) decision to have all the Armenians speak halting English to each other is another issue. In reaching for a wider market it could just have the opposite effect, certainly in Anglophone territories where the sort of crossover arthouse audiences this will be pitched at can be fussy about dialogue authenticity, and tend to have no fear of subtitles.
Nazaret's stolid plod through adversity means that there's little ethical resonance other than righteous anger in a film in which the experiences of hundreds of thousands of Armenians who were killed or left to die during the forced deportations of World War I are just one of the obstacles on our hero's picturesque road to reconciliation. Even when Nazaret attacks and robs a man in Cuba, the only consequence is that he now has the money to pay for his passage to Florida.
They did stories like that in the 1970s – and Akin's drafting in of veteran early-period Scorsese screenwriter Mardik Mardin to share the script credit is evidence that he likes it that way. But without The Piano Player's deft weaving of historical tragedy and personal moral drama, or the sheer character magnetism of other picaresque genre dramas like Barry Lyndon or Scarface, The Cut feels a little like a megalomaniac TV miniseries that's been trimmed back by an editorial committee from six hours to two and a half.
Opening in a golden pre-atrocity glow of happy Armenian Christian families in the town of Mardin, where Nazaret (Rahim) works as a metalsmith, the film presents the genocide as a mix of deliberate ethnic cleansing, end-of-empire anarchy and bureaucratic negligence. Though much has been made of the ethnic-Turkish Akin's bravery at taking this taboo subject on, he himself has pointed out that the climate of opinion has changed in Turkey in recent years, especially since the publication of journalist Hasan Cemal's book 1915: The Armenian Genocide.
Nazaret is separated from his wife Rakel and twin daughters early on; after a stint of forced labour in a road-building crew that is destined for slaughter when the Ottoman army pulls out, he makes a miraculous escape when his throat is stabbed rather than slit by a conscience-stricken conscript. From here it's a long switchback journey via armed bands of deserters and a horrific desert refugee camp to Aleppo, where he is taken in by a kindly soap merchant. Years pass before he discovers by chance that his daughters are still alive – cue for a second-act energy reboot that takes Nazaret from Syrian orphanages to Cuban barrios, Florida mangrove swamps and finally the wintry wastes of Minnesota in his search for closure.
It's difficult to discern the Akin of Head On in much of a film that seems to prize production design, costumes and score (a lush emotional affair) over script and character development. Sure, it's beautiful to look at, with cinematographer Rainer Klaussman giving an artsy Western feel to Nazaret's journey through Syrian deserts and snowy Minnesota steppes. But there are times – such as the over-melodramatic, over-CGI scenes set in the Ras-al-Ayn death camps – when we feel we're in the Armenian genocide franchise of Les Miserables. And Rahim's honest performance as an innocent whose everyman survivor status is too obviously flagged by a Charlie Chaplin silent-film screening he attends in Aleppo is not enough to redeem this well-made, worthy, wandering epic.
Production companies: Bombero International, Pyramide Productions, Pandora Film
International sales: The Match Factory, info@matchfactory.de
Producers: Fatih Akin, Karl Baumgartner, Reinhardt Brundig, Nurhan Sekerci-Porst, Flaminio Zadra
Screenplay: Fatih Akin, Mardik Martin
Cinematography: Rainer Klaussman
Editor: Andrew Bird
Production designer: Allan Starski
Music: Alexander Hacke
Main cast: Tahar Rahim, Hindi Zahra, Makram J. Khoury, Kevork Malikyan, Arsinee Khanijan, Bartu Kucukcaglayan, Simon Abkarian