Dir: Christina Voros. US-Italy. 2013. 95mins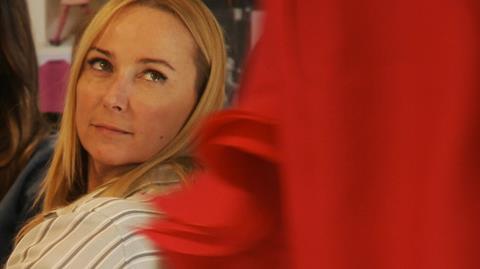 Gucci is the world's foremost Italian fashion brand, and the firm's handbags and shoes are a business worth billions, with the promise of much more in China, all endorsed by James Franco.
Most of the film, however sticks to the fashion doc template.
The Director, by Christina Voros, will test the public's appetite for another fashion documentary. That appetite seems to be surging, especially in large booming economies (China, Brazil, India, Russia) where status objects have a special importance. The Director is likely to ride the fashion wave through the festival circuit, into art house release, and to television. Franco's involvement will help promote it, so (probably indirectly) will a corporate marketing budget.
Voros' film is an official portrait and she gets what looks like full access to Frida Giannini, Gucci's Creative Director since 2006 – in the firm's offices, on a trip to China, and backstage during runway shows. When the affable overworked Giannini speaks, even when she meanders in a sleepy-eyed ramble, the camera is there.
Recent documentaries on fashion, focusing on style empires built by strong quirky personalities, have amounted to infomercials that celebrate brands and their founders.
Voros has also produced such an infomercial, complete with James Franco as a charismatic pitchman. It's an asset for the film that Franco looks great in a Gucci suit, and that he seems blithely comfortable promoting a corporate product. (Gucci is also a sponsor of documentaries produced by the Tribeca Film Institute.)
Voros - an experienced cinematographer and director of the feature Kink (that screened at Sundance this year) and the "making of" doc accompanying 127 Hours - gives the film a range of looks…the shimmering radiance of the fashion boilerplate beauty shots, the brusque hand-held elbowing behind the scenes, and the near-pure beauty of teenaged models too young for much guile.
Like a Gucci product, the doc is a well-crafted package, targeting consumers that want to seem refined.
The film's visual textures place it in the company of other fashion films, and of clusters of reality shows with designers that are all over cable channels. Described as a work in three acts, The Director is episodic, and those episodes can look a lot like the unspooling of reality television.
Yet some of those moments explore the fashion world with real laughs. Among the best is a runway audition of lean male models who appear to be between 16 and 19. The boys seemed ready to please, but somewhat gawkily unaware of the rewards of a modeling job at Gucci. Giannini has her eyes on one handsome clue-less kid, who can't seem to walk normally.
Watching her coach awkward youth, repetitively, with warmth and gentle discipline and not much success, is pure comedy. Likewise, a session with Giannini and her team looking critically at new designs had an unstudied frankness that went beyond the posturing that fashion television seems to take from American Idol.
Most of the film, however sticks to the fashion doc template – scratchy archival footage of the Gucci leather shop in Florence, heartfelt reminiscences at a beach house, and runway chaos before the models appear, plus a trip to China for a runway show that won't hurt selling The Director (or Gucci bags) there.
Giannini says that the primary objective for any article of clothing is to seduce. Fashionistas who find The Director predictable won't be seduced by this doc. Yet Gucci's stalwart predictability was the foundation of its profits for decades. There are enough satisfied customers out there to build an audience.
Production company: Rabbit Bandini
International sales: Submarine, www.submarine.com
Producers: James Franco, Miles Levy, Vince Jolivette, Christina Voros
Executive Producer: Kim Spikes
Cinematography: Christina Voros
Editor: Filippo Conz
Music: Adam James Sherlock