Dir/scr: Ned Benson. US. 2013. 190mins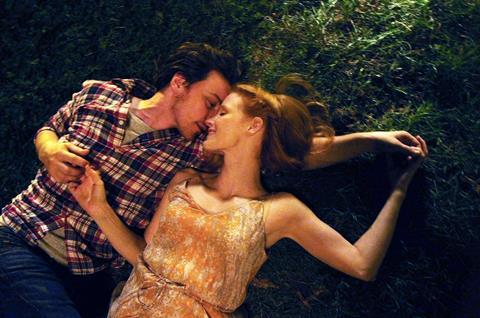 An ambitious and gently heartwrenching drama from debut director Ned Benson, The Disappearance Of Eleanor Rigby: Him And Her may well be a challenge in terms of marketing and distribution, but it is film that should intrigue and entrance audiences, as this two-part story tells the tender and traumatic love story of two people (James McAvoy and Jessica Chastain) as seen from two subtly different perspectives.
Watching both films back-to-back is part intriguing puzzle and part heart-wrenching emotional drama.
The Disappearance Of Eleanor Rigby: Him And Her can be released and seen as two separate films, but equally – and perhaps the better option – is that it is viewed as one relatively long film experience, and one that allows the viewer to really appreciate the ambition and subtle moments the film has to offer. As to which version is shown first is likely up to each different distributor (in Toronto it shows in both variations, though Him before Her is the most logical version) but whatever the decision, little can be taken away from he emotional impact of the film.
The challenge – and oddly the fun – of the film is spotting the differences in how same events are viewed by two people. Sometimes these are slight differences in how conversations emerged or were inflected or what clothes were worn at a certain occasion. But while the tone, are structure are excellent, what drives the film are the series of splendid performances, with Jessica Chastain (also a producer here) quite wonderful as a women trying to reevaluate her life after a traumatic incident.
After a terrible hits their lives, the strong marriage between restaurant owner Conor (McAvoy) and returning student Eleanor (Chastain) starts to crumble. After an incident that sees her hospital-bound for a while, Eleanor decides to walk away from their marriage and asks Conor not to look for her.
As the two try to re-think their lives – spending times with their respective families and friends and talking round (rather than about) what happened to them – with Conor unable to resist looking for Eleanor. He tracks her down, and while initially angry she also comes to realise he is a vital part of her life and visits him at the restaurant. But despite their clear affection they also seem to be at tangents and can't quite find the time, place of emotion to bring themselves back together again.
Watching both films back-to-back is part intriguing puzzle and part heart-wrenching emotional drama. Both are gently different films that offer different perspectives of the same story and watching them back-to-back is a fascinating delve into a sad story. While in Him there is more emphasis on anger, disbelief and confliction emotions as Conor tries to find Eleanor while also bonding with his father (Ciarán Hinds), in Her the film follows a sad woman, seeking solace with her parents and sister (Isabelle Huppert, William Hurt and Jess Weixler) and seeking to reinvent herself.
The support cast are all excellent – it also includes Bill Hader as Conor's best friend and restaurant cook and Viola Davis as the tutor who befriends Eleanor – and help provide the perfect back-up for smart performances from McAvoy and Chastain. While he is impressive, to a degree Chastain has the more complex and nuanced role, and she shines as a woman deeply traumatised but bold and strong enough to try and reinvent her life.
Spotting the subtle variations in memory (particularly memorable is scene where they take a rambling drive together, he wears a different shirt in each version and they have different memories of their vital conversation together) is one of the pleasures of The Disappearance Of Eleanor Rigby: Him And Her. The running time feels appropriate rather than problematic and the time spent with Conor and Eleanor (the link to the The Beatles song is referenced, but never exploited) is an enjoyable and moving film experience.
Production companies: Unison Films, Dreambridge Films, Standard Deviations, Myriad Pictures, Division Films, Kim & Jim Productions
International sales: Myriad Pictures, www.myriadpictures.com Producers: Cassandra Kulukundis, Ned Benson, Jessica Chastain, Todd Labarowski, Emanuel Michael
Executive producers: Kirk D'Amico, Peter Pastorelli, Brad Coolidge, Melissa Coolidge, Jim Casey, Kim Waltrip
Cinematography: Christopher Blauvelt
Editor: Kristina Boden
Production designer: Kelly McGehee
Music: Son Lux
Main cast: Jessica Chastain, James McAvoy, Nina Arianda, Viola Davis, Bill Hader, Ciarán Hinds, Isabelle Huppert, William Hurt, Jess Weixler