Dir: Robert Schwentke. US. 2015. 118mins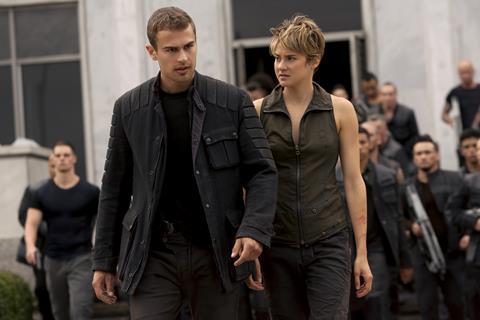 The second instalment of the Divergent series shows some symptoms of middle chapter-itis but in the end makes the most of a strong returning cast led by Shailene Woodley, slick direction from Robert Schwentke, impressive effects and a closely guarded plot twist. Even if it doesn't earn the sci-fi adventure franchise many new converts, Insurgent should retain the fan base created by last year's Divergent and keep it primed for the series' two-part Allegiant finale.
Schwentke gives the proceedings a Kubrickian sci-fi sheen which contrasts nicely with the antagonism between between the two female leads.
Opening in the US (through Lionsgate) and much of the international market (through independents) on March 20, the Summit Entertainment-produced sequel will be looking to beat the $159.9m which Divergent took in the US and Canada (after opening in the same late-March slot) and the $137.8m it managed internationally. Availability in 3D and IMAX formats should boost the sequel's earning power, especially in international markets.
Adapted from the second of Veronica Roth's three best-selling YA novels by Brian Duffield, Akiva Goldsman (A Beautiful Mind) and Mark Bomback (Dawn of the Planet of the Apes), Insurgent hits the ground running with Woodley's Tris, Four (Theo James) and their rebel friends escaping from the ruins of near-future Chicago.
With evil leader Jeanine (Kate Winslet) and her henchman Eric (Jai Courtney) rounding up Divergents in an attempt to unlock their secrets, Tris and Four take refuge with each of the society's intentionally separated factions – a journey that introduces new characters played by Octavia Spencer, Naomi Watts and Daniel Dae Kim - until Tris decides to stop running and face Jeanine woman-to-woman.
Like other middle parts of trilogies, the film spends more time spinning out or setting up story points than delivering them. And, in its first two acts, it makes few concessions to casual viewers who may not recall the details of Tris' world laid out in the first film.
The story gets more emotionally engaging in the final act, as Schwentke (taking over from Divergent's Neil Burger and best known for RED and Flightplan) gives the proceedings a Kubrickian sci-fi sheen that contrasts nicely with the antagonism between Tris and Jeanine.
The simulations that Tris is forced to go through so Jeanine can access a mysterious object containing the Divergents' secret give rise to some weirdly imaginative and eye-catching effects.
The big reveal (which will already be known to fans of Roth's books) comes in the final scenes and sets up the franchise's last two instalments, scheduled for release in March 2016 and March 2017.
Production companies: Summit Entertainment, Red Wagon Entertainment, Mandeville Films
US distribution: Lionsgate
International sales: Lionsgate, www.lionsgate.com
Producers: Douglas Wick, Lucy Fisher, Pouya Shahbazian,
Executive producers: Todd Lieberman, David Hoberman, Barry Waldman, Neil Burger
Screenplay: Brian Duffield, Akiva Goldsman, Mark Bomback
Director of photography: Florian Ballhaus
Production designer: Alec Hammond
Editors: Nancy Richardson, Stuart Levy
Costume designer: Louise Mingenbach
Music: Joseph Trapenese
Website: http://www.thedivergentseries.com/
Main cast: Shailene Woodley, Theo James, Kate Winslet, Jai Courtney, Miles Teller, Octavia Spencer, Naomi Watts, Daniel Dae Kim