Dir: Michael Brandt. US. 2011. 98mins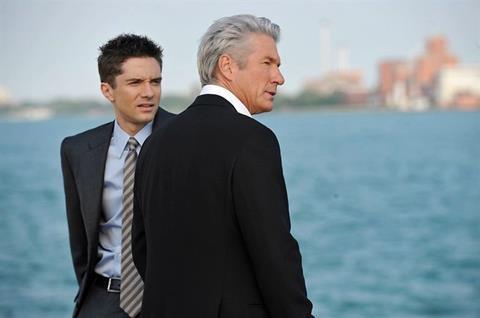 Two big plot twists aren't enough to make up for the generic feel of The Double, a solid rather than taut espionage thriller featuring Richard Gere and Topher Grace as spy hunters of two different generations.
High stakes action is thin on the ground.
The cross-generational casting, as well as Gere's track record in romantic dramas and comedies, might help broaden the potential theatrical audience when the Hyde Park production opens in US cinemas through Image later this month. The film had its world premiere at the Abu Dhabi Film Festival.
Ultimately, though, TV and home entertainment look likely to be more suitable venues, both domestically and internationally.
Scripters Michael Brandt and Derek Haas, who previously wrote Angelina Jolie hit Wanted, bring Cold War spookery into the present in the shape of Paul Shepherdson (Gere), a retired CIA operative known for his battle of wits with a legendary Soviet assassin codenamed Cassius. When the murder of a US Senator suggests that Cassius may be back in action in Washington DC, Shepherdson, though insistent that his nemesis is dead, reluctantly teams up with young FBI agent Ben Geary (Grace, from Predators and Valentine's Day), who believes Cassius is still operating.
The writers bravely deliver the first plot twist (also revealed in the trailer) half an hour in. They save the second for the story's climax, though when it's delivered it feels like too little, too late.
Directing his first feature, Brandt creates a young cop/old cop dynamic that makes for some fairly entertaining early scenes. But he relies too much on over-used spy thriller tropes and before long the film starts feeling familiar and a little dated - more like a nineties Jack Ryan outing than a muscular Jason Bourne adventure.
High stakes action is thin on the ground and the performances – particularly Gere's mannered and overwrought portrayal – don't bring much to the more dramatic moments.

Production companies: Hyde Park Entertainment
US distribution: Image Entertainment
International sales: Hyde Park International, www.hydeparkentertainment.com/site/international
Producers: Patrick Aiello, Ashok Amritraj, Steffan Brunner, Andrew Deane, Derek Haas
Executive producers: Mohamed Khalaf Al-Mazrouei, Ed Borgerding
Screenplay: Michael Brandt, Derek Haas
Cinematography: Jeffrey L Kimball
Production designer: Giles Masters
Editor: Steve Mirkovich
Music: John Debney
Main cast: Richard Gere, Topher Grace, Stana Katic, Stephen Moyer, Martin Sheen, Odette Annable