Dir: Mario Andreacchio. Australia-China. 2010. 94mins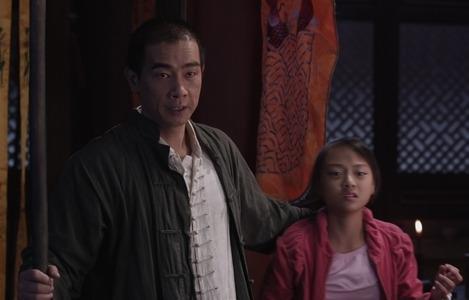 Billed as the "first Australian-China co-production", this good-looking family movie opens on an astonishing 3,500+ screens in China on March 11. Shot in China and featuring masses of red lanterns, traditional steep mountain vistas and plenty of dragon-related special effects, it has safe thrills and broad comedy for kids and exotic flavouring for their adult wranglers. The English version was shown at a 'surprise screening' at the Adelaide Film Festival. Cannes marketing in May will be followed by a Western release early in 2012.
The Chinese studio work in this $20m budgeted movie is big and bold.
Though the plot seems familiar — unearthing an ancient tomb whose decoded sliding doors reveal a magical treasure: think 'Raiders of the Lost Pearl' — the big plus is the mighty flying dragon. Contemporary Chinese authorities are very protective of their dragon, a still-potent symbol of creation and continuity, utterly unlike St. George's fire-breathing monster.
Director Andreacchio pays due and necessary respect to his co-produced version. Serpent-like in its constant writhing, gorgeously gold with bright red spinal plates, its sad, wise eyes say 'please help me get my magic pearl back'.
Cute, blonde Australian Josh (Louis Corbett) comes to China to be with his estranged father Chris (Sam Neill), an archaeologist about to open a 3000-year old underground tomb. Also in the discovery team are dodgy American Phillip (Robert Mammone), and Chinese scientist Dr. Li (Wang Ji) who has brought along her perky daughter Ling (Li Lin Jin), the only one who can hear the mysterious flute music that kick-starts the adventure.
She and Josh discover the picturesque gateway to the dragon, guarded by Wu-Dong (Jordan Chan), who brings some much needed comedy (and Kung Fu excellence) to the movie.
Sam Neill gives gravitas to the grumpy father, though he doesn't have much to do beyond doubting his son's increasingly vocal warnings. Ling's mother is equally dismissive. "I hate it when my mum doesn't believe me!" says Ling, and the younger members of the Adelaide audience loudly agreed.
The Chinese studio work — sets, costumes, cinematography — in this $20m budgeted movie is big and bold. A 3000-year flashback sequence is particularly impressive. Frank Strangio's haunting flute line is given the full treatment by (of all things) The Slovak National Symphony Orchestra.
Production company: Zhejiang Hengdian Films, Ampco Films
Aust/NZ sales: Ampco Films, Wallis Cinemas
International sales: Fries Film Group, www.friesfilms.com
Producers: Shan Tam, Pauline Chan, William W. Wilson III, Mark Patterson
Executive producers: Xu Yong An, Gao Hai Hao, Lu Ji Deng, Ron Saunders, Charles Fries, Jeffrey Sneller, Geoff Rischbieth, John Hood, Graeme Hodge
Screenplay: Philip Dalkin, John Armstrong
Cinematography: Geoffrey Simpson
Editor: Suresh Ayyar
Production designer: Yi Zhen Zhou
Music: Frank Strangio
Website: www.thedragonpearl.com
Main cast: Sam Neill, Li Lin Jin, Louis Corbett, Wang Ji, Robert Mammone