Di: Arie Posin. US. 2013. 92mins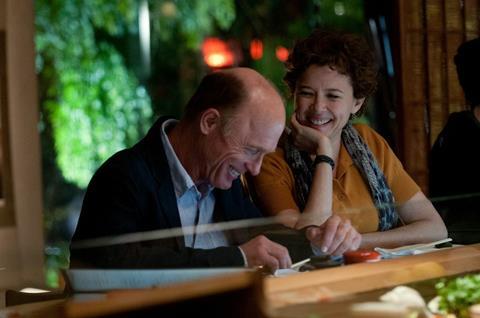 The near-60 crowd gets romance with a whisper of the occult in The Face Of Love, where an LA widow falls for a dead ringer of her husband who drowned a few years before. Solemn, gloomy and dramatically limp, The Face Of Love has an age-appropriate cast for the elderly audience in the US that still pays to watch movies in cinemas. An opportunity? Yet Annette Bening, Ed Harris, Robin Williams and Amy Brennerman can barely breathe enough life into this mournful tale.
Gloom is the mood in Arie Posin's third feature.
Critics probably won't adopt The Face Of Love, and don't expect its theatrical opening to jump-start an after-life in other formats. Festivals are unlikely to warm up any audience for what plays like another studio drama.
In a lovely Los Angeles house, Nikki (Annette Bening) is recovering from her husband's death. She sees Tom (Harris), a painter, at a local museum, tracks him down at Occidental College (where Obama attended), and starts art lessons with him. Thanks to Harris's assurances, love follows, but Tom remains secret from her family and neighbors. Panic hits when her daughter sees him.
Gloom is the mood in Arie Posin's third feature, co-written with Matthew McDuffie. Neighbor Roger (Williams), who lost his wife, turns from a friend to an unwelcome suitor; Tom's ex (Brennerman) is selling her house because "cancer just got more expensive," and Tom, to add to the fun, has a failing heart.
Bening, brave enough to play with minimal makeup (as does wrinkly Harris), plays her role as one note, raising the volume when she's anguished over seeing her late husband in Harris, lowering it when she wants his intimacy.
The script of The Face Of Love lacks any comic relief, and certainly not homages to comedies about the favorite Hollywood theme of resurrected lovers (Heaven Can Wait, Ghost) or to ingenious drama with look-alikes (Dead Ringers). Even Robin Williams, good for gallows humour in most situations, reduces the character of an emotionally needy neighbor seeking a companion to that of an insistent prig.
There is no distinguished performance in The Face Of Love, although the production designer Jeannine Claudia Oppewall gives the audience a feel for how Nikki and Tom live as uneasy people in comfortable surroundings. Bening's lackluster turn as Nikki is a surprise, given her sure comic instincts as a middle-aged lesbian mother in Los Angeles in The Kids Are All Right (2010).
Abundant closeups by cinematographer Antonio Riestra use the faces of Bening and Harris to ponder the textures and the inevitability of aging. As those actors get older, they'll find better opportunities for the inevitable drama of those years.
Production company: Mockingbird Pictures
International sales: Exclusive Media, www.exclusivemedia.com
Producer: Bonnie Curtis
Executive producers: Benjamin Castellano-Wood, Theresa Castellano-Wood, Paige Dunham, Maxine P. Lynn, Ruth Mutch, Amy Lynn Quinn, Les Ware, Amy Ware
Screenplay: Matthew McDuffie, Arie Posin
Cinematography: Antonio Riestra
Editor: Matt Maddox
Music: Marcelo Zarvos
Production designer: Jeannine Claudia Oppewall
Main cast: Annette Bening, Ed Harris, Robin Williams, Amy Brennerman