Universal behemoth soars past $500m internationally, hits $217m in China.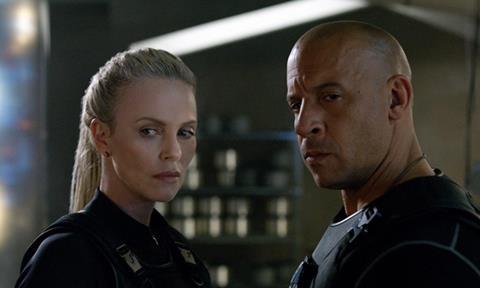 After it overtook Star Wars: The Force Awakens to score the biggest global opening weekend ever, The Fate Of The Furious is on target to boost the running total to more than $900m by Monday.
The action thriller stood at $565.1m internationally and $120.4m in North America through Wednesday and will not take long to cross the $1bn worldwide mark.
The Fate Of The Furious has amassed $217m in China, comfortably the action tentpole's top grossing territory.
The UK and Mexico have both generated around $23m each, while Germany sits on $18m.
The film starring Vin Diesel, Dwayne Johnson, Tyrese Gibson, Michelle Rodriguez, Jason Statham, Ludacris and Charlize Theron roars into three more territories this weekend.
Get Out from Blumhouse heads into six territories on $16.5m. Sing has grossed $354.9m, and Split has reached $136.4m.
Disney's live-action powerhouse Beauty And The Beast crossed $600m through Walt Disney Studios Motion Pictures International on Wednesday and stands at $602.5m. The fantasy musical opens in Japan this weekend.
Moana has amassed $389.9m. Disneynature's panda documentary Born In China, narrated by John Krasinski, will debut in five markets this weekend.
Paramount Pictures International's sci-fi action film Ghost In The Shell has grossed $118.3m.
Warner Bros Pictures International's Kong: Skull Island has amassed $393.2m, while the heist comedy Going In Style stands at $14.2m and opens in Australia and Mexico this weekend.
The LEGO Batman Movie has reached $131.9m and CHiPS stands at $7m and will debut in Germany.
Lionsgate International's Power Rangers has reached $47.6m internationally after adding $2.6m last weekend from 73 markets. The action film debuts in South Korea this weekend.
Fantasy drama The Shack grossed an additional $4.2m from 27 markets for $12m and debuts in South Korea over the weekend.
Dreamworks Animation's The Boss Baby heads into 15 territories through Fox International this week and currently stands at $182.9m.
Meanwhile, Logan has generated $379.9m, and Hidden Figures $58.9m.
Family drama Gifted starring Chris Evans, McKenna Grace and Jenny Slate, opens in two territories, while Warren Beatty's romantic period drama Rules Don't Apply opens in the UK.
[Ends]