Dir: Fariborz Kamkari. Italy-Switzerland-Iraq. 2010. 121mins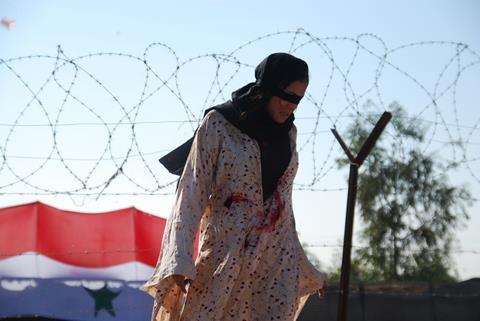 An Iraqi-Kurdish Romeo and Juliet with a dash of Dr Zhivago thrown into the mix, The Flowers of Kirkuk, which premiered in competition at the Rome Film Festival, is one of those worthy, passionate, cross-border projects that one would love to like – but it's flawed by its epic ambition and an undisciplined script that needs to be way tighter.
Kirkuk puts its foot on the old-fashioned melodrama pedal and keeps it there even when the car swerves off the road.
Though majority-produced in Italy, it's difficult to see Italians treating this as more than a world cinema curio when Medusa release it on November 19, especially given the initial downbeat reviews from local critics. Maghrebi and Gulf audiences may be more receptive.
Kurdish film festivals are springing up all over, and the culture ministry of the Kurdish Autonomous Region has proved generous in its support for films – like the present one, or Shahram Alidi's 2009 Cannes Critics Week contender Whisper with the Wind – that tell stirring Kurdish stories. But as these two very different films show, the territory is still feeling its way towards a cinematic language.
Whisperwent for a symbolist dream parable approach to the history of a much-abused people; Kirkuk, on the other hand, puts its foot on the old-fashioned melodrama pedal and keeps it there even when the car swerves off the road.
After a brief 'years later' framing passage which serves only to forewarn us of the film's tragic denouement, we backtrack to the Iraqi city of Kirkuk in 1988. The film gives us little background on the process of 'Arabization' to which Saddam Hussein's Ba'ath party subjected this oil-rich Kurdish city from the mid 1970s onwards: all we know is that, as in old Verona, there are two warring sides.
Pretty medical student Najla (Moroccan actress Alaoui) comes from a well-off, partly Europeanised Iraqi Arab family – though her short skirts and feisty defence of her right to work, marry who she chooses and speak up for herself still cause scandal in this male-dominated world. She's come to Kirkuk to look for Sherko (Eser), a handsome Kurdish trainee doctor who she met back in Italy, where they were both studying.
Now involved with the Kurdish resistance to Ba'ath oppression, Sherko has broken off the relationship; but Najla soon tracks him down and in some of the film's most clichéd Arab-melodrama moments – complete with flower symbolism in lieu of raunchy bedroom scenes – they rekindle the flame. Najla is soon helping Sherko out in a clandestine clinic for Kurdish refugees who have suffered in the chemical weapon attacks unleashed on their villages by their own Iraqi government.
But there's a triangular complication: fiery Iraqi army officer Mokhtar (Zouaoui), who conceives a fatal attraction for Najla. When Sherko is arrested, the scene is all set for Najla to join the oppressors, and use Mokhtar's passion for her to engineer her lover's release, and help his people.
The film spends too long establishing Najla's feminist credentials, which are irrelevant to its main plot, as there's no suggestion here that the Kurdish community is any more enlightened in its attitudes towards women. And even Alaoui seems to struggle in this first part to cast off her actressy mannerisms.
But when her character – now an Iraqi army doctor – is transferred to a huge prison camp in the desert where she witnesses violence against Kurdish prisoners and refugees at first hand, both story and performance become more real and affecting. In the end, though, the plot is a little too contrived to really hit home, and too soft on the Kurdish good guys (it's difficult to believe, for example, that a group of resistance fighters would spare the lives of a couple of Iraqi soldiers who had seen their faces).
Visually, the film does a decent job of conveying the dust and glare of northern Iraq (or if you prefer, southern Kurdistan), but it's the soundtrack by Roman world music ensemble Orchestra di Piazza Vittorio – inventively mixing Western, Arab and Kurdish influences – that is the standout technical credit.
Production companies: FARoutFILMS, T&C Film, OsKar, Visual K Productions
International sales: Adriana Chiesa Enterprises, www.adrianachiesaenterprises.com
Producer: Fabrizia Falzetti
Screenplay: Fariborz Kamakari, Naseh Kamkari
Cinematography: Marco Carosi
Production design: Malak Djahan Khazai, Sima Yazdanfar
Editor: Marco Spoletini
Music: Orchestra di Piazza Vittorio
Main cast: Morjana Alaoui, Ertem Eser, Mohammed Zouaoui, Mohammed Bakri, Maryam Hassouni, Ashraf Hamdi