Dir/scr: David Riker. US. 2012. 94mins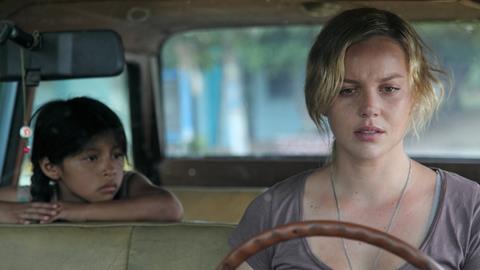 This elegantly structured immigration drama offers a tasty role for Abbie Cornish, who plays a poor young American woman who gets caught up in a spiraling series of dramatic events when she takes an extreme act to try and raise money to regain custody of her son. Beautifully shot and thoughtfully structured, it may be too low-key and lacking real drama to breakout, but it is a great acting vehicle for Cornish.
Writer/director David Riker shoots impressively, making the best of the striking border locations.
To a certain extent it is a film with a simple structure – a young woman learns a life lesson and seeks a certain form of redemption – but the backdrop of the border between Texas and Mexico offers a lot of visual dynamism, while Will Patton is also on-hand to deliver yet another striking cameo, playing her truck-driver father.The film had its world premiere at the Tribeca Film Festival.
Single mother Ashley (Cornish) has lost custody of her son, is struggling to keep her job, drinks too much and lives in a ramshackle trailer that is so untidy that it may hamper her ability to convince child services that she should have her young son back with her.
She is mildly shocked to discover her father, who lives in Mexico, has been making money smuggling illegal immigrants in the back of his truck, but on a whim decides to offer to help a group of Mexicans to try and cross the border by dropping them by the side of the Rio Grande separating the two countries and saying she will pick them up on the other side and drop them off in Austin, Texas.
But things go badly wrong and only a few make it across the river. One is a young Mexican girl named Rosa (Maritza Santiago Hernandez), who has lost her mother in the river, and her situation forces Ashley to take stock of what she has done and take responsibility for her actions.
Driving Rosa back to Mexico, the pair try and find out if her mother's body has been recovered. She gradually becomes Rosa's protector and her conscience means that she can't leave her to the care of the Mexican authorities, eventually driving her inland to her grandmother who lives in a small farming community in Oaxaca.
Here Ashley finds a certain form of redemption as she does all she can for the child and finds herself amidst a family-orientated community so different from the trailer park life she has been living. The film ends with her driving back to the US, presumably on a mission to try and finally resolve access to her son.
Writer/director David Riker shoots impressively, making the best of the striking border locations, and with Abbie Cornish he has an actress whose quiet resolve fits her character perfectly. Solid, proud and gently determined, her anger at everyone around her – as she apparently seeks to blame everyone but herself for her predicament – gradually fades as she finds a certain grace in her mission of motherhood.
Production companies: Journeyman Pictures, Axiom Films, Sin Sentido Films, Bonita Films, Cinereach Films, Lulu Productions, Goldcrest Films
International sales: Goldcrest Films, www.goldcrestfilms.com
Producer: Paul Mezey
Executive producers: Philipp Englehorn, Nick Quested
Co-producers: Douglas Cummins, Christian Valdelievre, Tania Zarak
Cinematography: Martin Boege
Editors: Malcolm Lieberman, Stephanie Ahn
Production designer: Salvador Parra
Music: Jacobo Lieberman, Leonardo Heiblum
Main cast: Abbie Cornish, Will Patton, Maritza Santiago Hernandez, Angeles Cruz, Giovanna Zacarias