Dir. Neal Brennan. US. 2009. 89 mins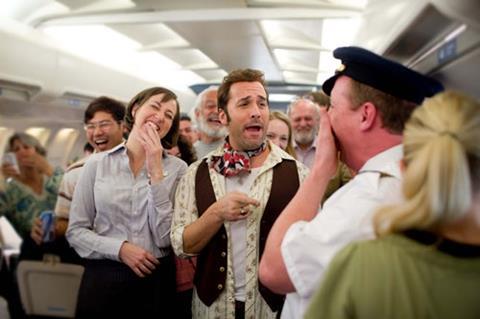 With Will Ferrell producing but appearing only briefly on screen, The Goods: Live Hard, Sell Hard attempts to do for used car salesmen what Ferrell vehicles Semi-Pro, Blades of Glory, Talledega Nights and Anchorman did for their respective professions. The job change, though, produces only a smattering of laughs, suggesting that this raunchy comedy starring Entourage's Jeremy Piven might sputter at the domestic box office and travel no better than Ferrell's star turns.

US distributor Paramount Vantage (which previously released 2008 misfire The Foot Fist Way for Ferrell's Gary Sanchez Productions) opens the R-rated comedy wide on August 14, competing with buzzy sci-fi entry District 9 for the young male audience.
Director Neal Brennan gives the film a scattershot feel
Independent distributors which have licensed The Goods from Paramount Vantage International will have to work hard to make up for the film's relatively low star power, while unfamiliarity with a distinctly American milieu could also be a problem, as it apparently was for Talledega Nights et al.

Piven's Don Ready is a rock star version of the archetypal American automobile salesman, a sleazy hard-partying huckster who goes wherever there are vehicles to be sold. When they're asked to save an ailing car dealership from bankruptcy, Don and his crew of eccentric but highly efficient sales people – gentle giant Jibby (Ving Rhames), sex bomb Babs (Kathryn Hahn) and right-hand man Brent (David Koechner) – descend on a small California town for the big July 4 weekend sale.

On their first theatrical feature, scriptwriters Adam Stock and Rick Stempson set up a plot that has Don falling for his temporary employer's pretty daughter Ivy (Jordana Spiro) and thinking about settling down. But the writers seem more interested in their subplots – Ivy is engaged to Paxton (Ed Helms), the smarmy son of her dad's rival car dealer; her dad is nursing unrequited lust for Brent; and Jibby and Babs are looking for love and sex respectively. Other, incidental bits of comedy business produce occasional laughs – Paxton's overgrown boy band, for example - but often fall flat.

Also making a feature debut, director Neal Brennan gives the film a scattershot feel. As soon as one rapid-fire, non-PC scene is over he jumps on to the next before the audience has barely had time to digest what has just taken place. What he most clearly fails to do, however, is make the film either warm enough or funny enough to work in the split-level way sometimes achieved by Ferrell, Judd Apatow and other contemporary movie comedy kings.

Piven is less effective in this broad comedy setting than he is as manic agent Ari Gold in the more subtle setting of Entourage. But he puts a lot of energy into selling the role and his presence should give the film more female appeal than it might otherwise have had.

The supporting cast includes a number of familiar comedy faces, among them Ken Jeong (from The Hangover), sitcom veteran Alan Thicke and James Brolin. Ferrell does a fairly funny three-scene cameo as the spirit of one of Don's former cohorts.
To sign up for Screen's weekly Reviews Newsletter with new releases, international openings and full festival reviews delivered free to your mailbox every Friday, please click HERE


Production company
Gary Sanchez Productions

International sales
Paramount Vantage International

Producers
Adam McKay
Will Ferrell
Kevin Messick
Chris Henchy

Screenplay
Adam Stock & Rick Stempson

Cinematography
Daryn Okada

Production design
Stefania Cella

Editors
Michael Jablow
Kevin Tent

Music
Lyle Workman

Main cast
Jeremy Piven
Ving Rhames
James Brolin
David Koechner
Kathryn Hahn
Jordana Spiro
Ed Helms