Dir: Wes Anderson. US. 2014. 100mins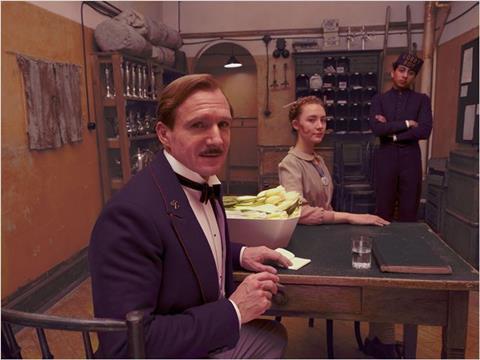 A warmly whimsical and deftly magical tale of love, robbery, murder and comedy mishaps all set against the fantastical backdrop of an imaginary central European region, Wes Anderson's beautiful and thoroughly enjoyable The Grand Budapest Hotel sees the director deliver his best film. It will enchant fans of his signature precious and warmly deadpan comedy style and draw in those who may be new to the unique Wes Anderson vision.
Ralph Fiennes is sheer fastidious perfection as the vain but rather generous Gustave M, and his on-screen relationship with Tony Revolori is delightfully sustained as the pair embark on a series of strange but rather wonderful adventures.
As usual, Anderson sets out to set his story within a unique imaginary world of his own creation, this time shifting his tale to a fictional spa town in the imaginary country of alpine Zubrowska in the 1930s, with the key backdrop being the grand and elegant The Grand Budapest Hotel. It is the period of grand hotels, elegant fashion, good manners, bitter conflict and grand ambitions and the film reflects the freewheeling caper comedy style of classy 1930s Hollywood screwball comedies but with the added Anderson style which layers in clever design, engaging effects and a playful use of varied aspect ratios just to keep audiences intrigued.
The opening film of the Berlin Film Festival – where it screens in competition – The Grand Budapest Hotel plays at several other European film festivals before opening in the US and most other key territories in early March. It will be a must-see for the legion of Wes Anderson fans, while strong and resolutely charming performances from Ralph Fiennes, Adrien Brody, Edward Norton and Willem Dafoe (as well as Anderson's now regular supporting performers) should help boost theatrical attention.
Though playful in its nature of storytelling – there are stories within stories, within stories – at the core of the film are the adventures of Gustave H (Fiennes), a legendary concierge at the famous hotel between the wars and Zero Moustafa (newcomer Tony Revolori), the lobby boy who is to become his most loyal and trusted friend. A vain but lovingly loyal lothario who romances older female guests at the hotel, Gustave H (or "Monsieur Gustave" as he is simply known) also runs the hotel with precision, and takes a paternal attitude to young Zero.
When one of his loves, the 84 year-old dowager countess Madame Celine Villeneuve Desgoffe und Taxis, aka Madame D, (beautifully played by a heavily made-up Tilda Swinton) mysteriously dies, Gustave and Zero hurry by train (and through a newly militarised border) to Schloss Lutz to be at her side. But when Gustave is bequeathed a valuable Renaissance painting he soon finds himself accused of her murder by her son and presumed heir Dmitri (Brody).
What follows is a caper that veers into Marx Brothers territory at times as Gustave attempts to flee; he is imprisoned in Checkpoint 19 Criminal Internment Camp, managing to escape after befriending underworld figure Ludwig (Harvey Keitel) and having tools hidden in cakes delivered to him; he is assisted in flight by the varied members of The Society of the Crossed Keys (a brotherhood of concierges) and eventually finding his way back to The Grand Budapest Hotel – and to Zero – for an action packed finale (and a blazing gun-battle, an unusual sight in a Wes Anderson film) on the sixth floor of the reputable building.
It will come as no surprise that there is an awful lot going on in The Grand Budapest Hotel – after all, this is a Wes Anderson film. It would be a fair comment to say that the plethora of characters make for engaging distractions rather than aid the flow of the film (the likes of Bill Murray, Owen Wilson, Tom Wilkinson, Bob Balaban and Lea Seydoux all have minor, but amusingly telling, roles) but then this is what you get when you buy into an Anderson film. That along with a love of trains; artfully interwoven animation (a series of funicular trips) and a rich and immersive sense of production design and costumes all help make this cinematic journey a playful and entertaining one.
Ralph Fiennes is sheer fastidious perfection as the vain but rather generous Gustave M, and his on-screen relationship with Tony Revolori is delightfully sustained as the pair embark on a series of strange but rather wonderful adventures. The film is also a tribute to the classic image of the Bell Hop (maybe the best since Four Rooms) and has a lot of fun – and a good deal of respect – for the notion of who the clichéd 'Grand Hotel' functions.
The framing device of having the story told by both Tom Wilkinson and Jude Law (as the renowned author of a book about the hotel at different ages) is engaging rather than necessary but once the film focuses on Monsieur Gustave and the young Zero and their great adventure it really finds its glorious momentum and takes the audience on a swaggering and delightful grand adventure that is cinematic, exciting, funny and above all intelligently entertaining.
Production companies: American Imperial, Indian Paintbrush, Studio Babelsberg, Fox Searchlight Pictures
Distribution: 20th Century Fox
Screenplay: Wes Anderson, Hugo Guinness
Producers: Wes Anderson, Scott Rudin, Steven Bales, Jeremy Dawson
Executive producers: Molly Cooper, Charlie Woebcken, Christoph Fisser, Henning Molfenter
Co-producer: Jane Frazer
Cinematography: Robert Yeoman
Editor: Barney Pilling
Production designer: Adam Stockhausen
Music: Alexandre Desplat
Main cast: Ralph Fiennes, Tony Revolori, F. Murray Abraham, Mathieu Amalric, Adrien Brody, Willem Dafoe, Jeff Goldblum, Harvey Keitel, Jude Law, Bill Murray, Edward Norton, Saoirse Ronan, Jason Schwartzman, Lea Seydoux, Tilda Swinton