Dir: Paolo Sorrentino. Italy-France. 2013. 140mins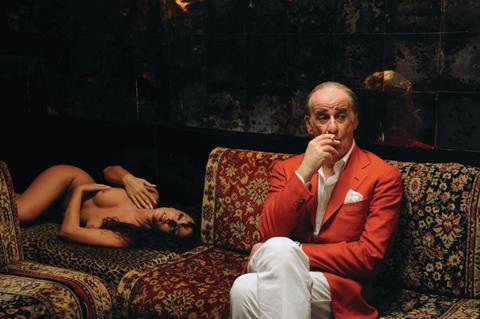 Paolo Sorrentino's follow-up to This Must Be The Place is an alternately elegiac and world-weary cinematic fresco of contemporary Rome that references both the melancholy hedonism of La Dolce Vita or Fellini's Roma and the decadence of the latter days of the Roman empire. It's a virtuoso piece of filmmaking featuring a magnificently jaded Toni Servillo as a journalist who, like Mastroiainni in Fellini's masterpiece, drifts listlessly from party to party and interview to interview, wallowing in the waste of his writing talent as in a warm bath.
Although Sorrentino's Fellini mash-up adds little of substance to what il maestro showed and said all those years ago, it's still a remarkable cinematic experience.
With its venal clerics, failed authors, aristocrats for rent, washed-up TV stars and shabby nightlife entrepreneurs, The Great Beauty (La Grande Bellezza) is, at times, a profound film about superficiality, loss of innocence, missed chances and imitations of life; but at others it recycles a vision of Rome, and a fashionable ennui, that Fellini nailed once and for all more than 50 years ago.
The first fifteen minutes of the almost three-hour film, as the camera pans and swoops through a Sorrentino-skewed view of tourist Rome before homing in on a wild rooftop party, make for exhilarating viewing. What follows is part character study, part mood piece. The obvious comparison is Il Divo: but that impressionistic operetta was grounded in historical fact. The Great Beauty, on the other hand, drifts rootlessly like its hero through a series of interconnected vignettes. Paradoxically, this is a film that may fare better outside of Italy. On home turf, Sorrentino's vision of Roman soirees and pseudo-literary life will come across as a little dated.
The film's tone is set by an opening on-screen quotation from French writer Celine's bitterly misanthropic 1930s novel Journey to the End of the Night. But it might just have easily have led with a bon mot Gore Vidal comes up with in Fellini's Roma: "Rome is a wonderful place from which to observe the end of the world".
Our guide through this beautiful, decadent place is Jep Gambardella (Servillo), an ageing serial seducer and party animal who published a well-received novel years ago but now works as a society and arts journalist for a national newspaper. Impeccably turned out, Jep drifts and drawls from dance party to dinner party, most of which take place on Roman rooftops or terraces – like Jep's own, which overlooks the Colosseum on one side and a convent garden on the other.
We're gradually introduced to Jep's circle of friends: struggling playwright Romano (locally iconic Italian comedy actor-director Carlo Verdone), who is the closest Jep comes to a best friend, and a cast of others that include his editor Dadina and a left-wing writer Stefania, whose pretensions to be 'writing committed books that make a difference' are destroyed by Jep in one memorable sequence. So great is Jep's ennui that he can hardly even be bothered to go through the Casanova motions anymore.
But though he can be hugely cruel and cynical, there's a sensitivity and even romanticism buried in their somewhere – which comes out both in his surprisingly tender relationship with Ramona (Ferilli), the down-to-earth stripper daughter of an old friend, and in the appearance of the husband of a recently dead woman who, it transpires, inspired Jep's only novel, and never stopped loving him in 35 years of marriage to another man. Death is a constant presence in a film whose very best scene is set at a funeral.
Potshots are taken at the church (priests and nuns order champagne in chic restaurants; a pure young nun turns up at a high-class botox clinic), at the wackier end of performance theatre, at the contemporary art world – though this also supplies a scene of great lyricism. Luca Bigazzi's ravishing camerawork, a seductive score that alternates sacred choral music and pounding house, seamless editing and the graceful fugue-like narrative structure make for a film that is always a pleasure to watch. This said, there's something a little corny about the flashbacks to Jep's teen romance, and two quasi-fantasy sequences involving a magician's giraffe and a flock of flamingos look like desperate attempts to weld some circus magic onto a film that is essentially about physical and moral exhaustion.
Sure, The Great Beauty's mixture of social and religious satire and existential melancholy, its reaching out for poetry even as poetry is ridiculed, has been done before, by The Great Federico. But although Sorrentino's Fellini mash-up adds little of substance to what il maestro showed and said all those years ago, it's still a remarkable cinematic experience.
Production companies: Indigo Film, Medusa Film
Co-production: Babe Films, Pathé Production, France 2 Cinema
International sales: Pathe International, www.patheinternational.com
Producers: Nicola Giuliano, Francesca Cima
Co-producers: Fabio Conversi, Jerome Seydoux
Screenplay: Paolo Sorrentino, Umberto Contarello
Cinematography: Luca Bigazzi
Editor: Cristiano Travaglioli
Production designer: Stefania Cella
Music: Lele Marchitelli
Main cast: Toni Servillo, Carlo Verdone, Sabrina Ferilli, Carlo Buccirosso, Iaia Forte, Pamela Villoresi, Galatea Ranzi, Isabella Ferrari, Massimo De Francovich, Roberto Herlitzka