The Great Wall in at number one; 2016 annual takings set to break new records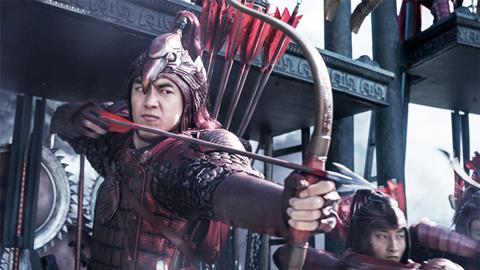 Chinese auteur Zhang Yimou's eagerly-anticipated The Great Wall easily conquered the Chinese box office in the week of Dec 12-18. Its three-day opening weekend reached $70.05m, including $7m from IMAX screens, the third highest IMAX opening ever for a local title.
For comparison, the lavish China-US co-production opened almost on par with Daniel Lee's Time Raiders, which subsequently became the biggest summer blockbuster this year. But it was about RMB115m ($17m) short of Wuershan's Mojin - The Lost Legend, which debuted during the equivalent weekend last December.
Nevertheless, The Great Wall provided a much-desired boost to the Chinese box office, which has been rather lacklustre compared with last year. Last week's box office soared by approximately 24%, thanks to the stellar opening of The Great Wall, which accounted for almost 53% of the week's takings.
It was also the best performing seven-day total since the National Day week in October, bringing 2016 box office closer to last year's. A new annual box office is expected within this week.
Mel Gibson's Hacksaw Ridge maintained well in second place on the back of positive word of mouth. The WW2 drama added $18.38m from its 11-day total of $36.00m.
Cheng Er's The Wasted Times launched in third place with $9.77m from its first three days. Set in 1930s Shanghai, the local revenge thriller stars Zhang Ziyi, Ge You and Asano Tadanobu. It opened in second place on both Friday and Saturday, but dropped to the third when Hacksaw Ridge overtook it on Sunday.
Makoto Shinkai's Your Name fell to the fourth place, ending its two-week reign at the top of the box office. The body-swapping fantasy romance took $7.42m for a 17-day total of $81.05m, surpassing Stand By Me Doraemon to become the top grossing Japanese film ever in China. It has also become the fourth highest grossing animation this year, behind Zootopia, Kung Fu Panda 3 and Big Fish & Begonia.
The rest of the top 10 were mostly holdovers: Zhang Mo's debut feature Suddenly Seventeen on $6.78m for $17.96m after 10 days; Feng Xiaogang's award-winning I Am Not Madame Bovary on $5.61m for $68.25m after 31 days; Warner Bros' Sully on $2.76m for a 10-day total of $8.46m; Disney animation Moana on $2.40m for a 24-day total of $29.24m; and Warner Bros' Fantastic Beasts and Where to Find Them on $2.17m for $87.29m after 24 days.
New local thriller Blood Of Youth rounded out the charts with $1.31m from its first three days.
More high-profile local releases are on deck, with Railroad Tigers and See You Tomorrow dated for Dec 23.