Dir/scr: Zuzana Liova. Slovak Republic-Czech Republic. 2011. 100mins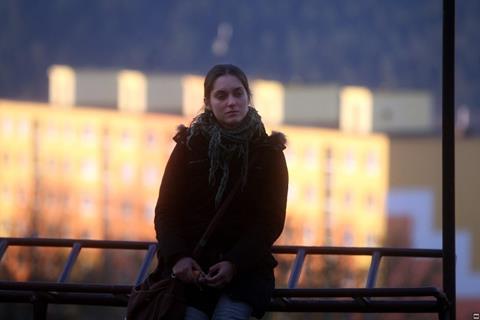 A bleakly engaging tale of family conflict and maddening mis-communication is at the heart of the solidly made Slovak-Czech co-production The House(Dom), the feature debut for talented young filmmaker Zuzana Liova. It is an engagingly naturalistic film, distinctive due to the charming lead performance by Judit Bardos as the teen daughter aiming to escape her dominating father.

Writer/director Zuzana Liova displays an easy hand in marshalling her experienced cast, and crafting a tenderly dour film.
There are no real surprises in terms of the script or its structure, with moments of humour brief and very subtle and while the performances are gloomily spot-on and the direction appropriately unflashy, where The House does succeed is in portraying a fascinating slice of life in rural Eastern Europe.

Unsmiling father Imrich (Krobot) is building a house brick-by-brick out in the garden of his property for his college-student daughter Eva (Bardos), who naturally enough hates the idea, and is secretly skipping school to try and earn money to pay her way to the UK to work as an au pair.

Imrich, a foreman at the local water bottling plant, had started building a house for older daughter Jana, but abandoned the project when she met and married a man Imrich didn't approve of and now has three children that Imrich refuses to acknowledge.

In the course of the film Eva constantly - and often petulantly - rails against her father. She also starts a faltering affair with a married older man named Jakub, who turns out to be the school's new supply English teacher, and also tries to help bring peace between her sister and father.

Newcomer Judit Bardos is a sad-faced but charming presence, portraying Eva as an intelligent and compassionate young woman determined to find her own way in life, but who still seems to put faith in the power of the family. At times this aspect fails to ring true - though Imrich makes an eventual stab at making peace with Jana and her husband, it is all very little and very late, but we are asked to buy into the fact that the bonds of family are strong enough to put aside his boorish unpleasantness and inability to communicate apart from angry stares and muttered comments.

Eva's dreams of love and a world away from her own are universal and understandable, and for this passionate girl the prospect of helping her father build her 'home' brick-by-brick - often in the pouring rain - is a terrible one. But gradually this disconnected family (the only stable figure is her mother, played by Tat'jana Medvecka, who tries to make peace) grudgingly finds a way of living together, and there is even an upbeat ending of sorts.

There are striking visual moments - varying from the site of the half-built houses in the muddy backyard through to the snow-caped mountains surrounding this small and remote town - and writer/director Zuzana Liova displays an easy hand in marshalling her experienced cast, and crafting a tenderly dour film that could well appeal to other film festivals.


Production companies: Fog'n'Desire Films, Samastinor, Ceska Televize, STV
Sales contact: Fog'n'Desire Films, www.fogndesirefilms.com
Producers: Viktor Taus, Michal Kollar-Krajnak
Cinematography: Jan Baset Striezsky, Juraj Chlpik
Production designer Pavol Andrasko
Editor: Anna Johnson Ryndova
Main cast: Miroslav Krobot, Judit Bardos, Marian Mitas, Tat'jana Medvecka