Dir:Terry Gilliam. Fr-UK-Canada. 122mins.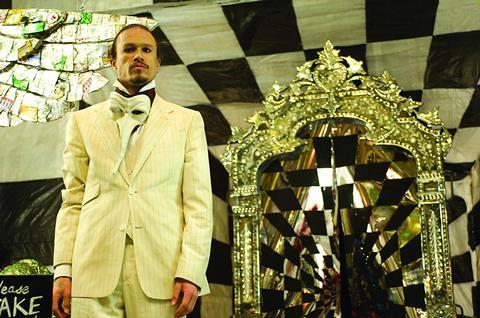 Terry Gilliam has always seemed like the last apostle of unfettered fantasy in an age insistent on prosaic reality. The Imaginarium Of Dr Parnassus is a typically staunch defence of the transformative power of the imagination and its ability to change the world.
This is the purest expression of Gilliam's distinctive sensibility in a long while, complete with outbursts of Pythonesque humour, entrancing dream landscapes, strange creatures, a dapper devil and a wise midget. It is an incredibly rich stew of a film and an often wilfully eccentric proposition for a mainstream audience. Despite the attractions of a stellar cast, its appeal will be largely confined to loyal Gilliam fans and those seeking a last look at the legacy of the late Heath Ledger, who died during the film's production. The end credits for Imaginarium bill it as a film from Heath Ledger and friends.
A reunion of Gilliam with Charles McKeown, his screenwriter collaborator on Brazil (1985) and The Adventures Of Baron Munchausen (1988), Imaginarium features many of the preoccupying themes and visual trademarks of Gilliam's career. In many respects it has the air of a fond and perhaps final return to some very familiar ground. Christopher Plummer's Dr Parnassus even feels like the kind of doddering seer of a figure who would seem very much at home in the company of Gilliam's liars, rogues and vagabonds like Munchausen and Don Quixote.

Parnassus is thousands of years old and immortal. He now runs a ramshackle travelling magic show with his daughter Valentina (Lily Cole), eager assistant Anton (Andrew Garfield) and dwarf Percy (Verne Troyer). But Parnassus has made a deal with the devil, called Mr. Nick (Tom Waits) to pursue the great love of his love. The price was that the devil would come to reclaim the soul of their child on her sixteenth birthday which in the case of Valentina, is just days away.
Always a betting man, the Devil offers Parnassus a further wager. The first of them to claim five souls wins the prize of Valentina. The wager takes place as the troupe save the life of disgraced charity boss Tony (Heath Ledger), who they find hanging from a bridge.

Parnassus takes place in a contemporary London that Gilliam paints as a grim city populated by narrow-minded individuals with no sense of imagination. It is a despairing, old man's vision of a world that needs a little magic and hope more than ever. Those qualities arise in the various journeys undertaken to secure the five souls and save Valentina. If an individual can be persuaded to step through the mirror of the imaginarium, they pass into an
idyllic fantasy of their happiest imagining whether that's a Willy Wonka land of chocolates and sweets for a child or a land of enticing consumer goods and gliding gondolas for one older woman.
These sequences give full reign to Gilliam's visual imagination as a huge head of Parnassus appears from the sand or the devil transforms himself into a giant, slithering snake. In one bizarre moment, a band of cross-dressing policemen embark on a song'n'dance routine to entice new recruits with an appetite for violence. It is the most obvious nod to Gilliam's Python past in the film.

Parnassus is a visual treat but one that many will find lacking in coherence or self-discipline.
The death of Heath Ledger has prompted an elegant solution that works in terms of the film's narrative as Johnny Depp, Jude Law and Colin Farrell all assume the role of Tony during the narrative. These transitions take place during the visits through the Parnassus looking glass so it seems entirely believable that Tony might change physical shape as he enters a different world and more of his true personality is stripped away to reveal the villain beneath.
In one sequence tiny boats bearing images of Rudolph Valentino, James Dean and Princess Diana float by and there is an eerily resonant tribute paid to those who die young and will never grow old or feeble.

Ledger's final performance once again underlines his considerable screen presence and winning way with comedy but the film's best turn comes from a dazzling Andrew Garfield as Anton. Deeply in love with Valentina and deeply jealous of her affection for Tony, he captures all the eagerness and wounded pride of his character in a totally delightful performance that is a further testimony to the versatility of an actor who seems comes up with something fresh in every film (Boy A, Lions For Lambs etc).

To anyone not sympathetic to Gilliam's flights of fantasy, Parnassus will reek of rambling self-indulgence but fans will welcome it as a return to what he does best.
Production companies
Poo Poo Pictures
Parnassus Production
Infinity Features
International sales
Mandate International
(1) 310 255 3700
Producers
Amy Gilliam
Samuel Hadida

Screenplay
Terry Gilliam
Charles McKeown
Cinematography
Nicola Pecorini
Editor
Mick Audsley
Music
Mychael Danna
Jeff Danna
Main cast
Heath Ledger
Christopher Plummer
Lily Cole
Andrew Garfield
Tom Waits
Johnny Depp
Colin Farrel
Jude Law