Dir: Rosemary Riddell. New Zealand. 2010. 100mins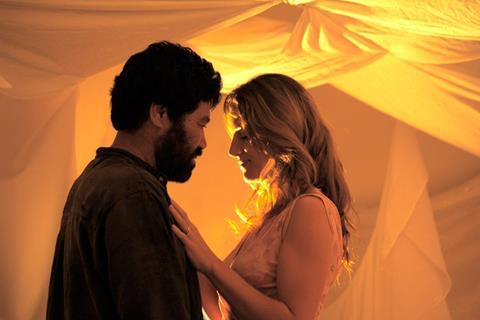 A low-budget local movie with a whole lot of heart, The Insatiable Moon is a good-natured and sweetly uplifting New Zealand film that is modest it content but has enough rough and ready charm to work with broadcasters and distribs keen to fill the gap in the heartfelt flick arena.
The captivating and impressive performance by Rawiri Paratene is the engaging heart of the film.
It is a provocative and at times emotionally challenging film, nicely performed and with a message of tolerance and good will. It focuses the moving mission of psychiatric patient Arthur (Rawiri Paratene, who featured in Whale Rider) to change his surrounding world for the better.
Maori man Arthur lives in a boarding house for the mentally ill and homeless in the small New Zealand town of Ponsonby. He is the self-proclaimed Second Son of God, and when the boarding house is threatened with closure – and is also featured in a series of reports by a television reporter – he takes the opportunity to preach his vision of a just and caring community.
He also starts a romance with community worker Margaret (Sara Wiseman), who has issues with infertility and a less-than-loving marriage and is won over by his tender nature and compassion. But Arthur becomes increasingly distracted and is confined to a local psychiatric ward where doctors pronounce him delusional and start to drug him.
The film originally started life as a UK-New Zealand co-production set to star James Nesbitt and Timothy Spall, but lack of NZ Film Commission funding meant that project foundered, and was re-established as a NZ$340,000 (just over $250,000) production and shot in five weeks with a six-week post-production schedule.
Adapted by Ponsonby local Mike Riddell from his own novel, the film was directed by his wife Rosemary Riddell. The captivating and impressive performance by Rawiri Paratene is the engaging heart of the film, and while at times certain elements don't gel perfectly there is a real sense of compassion and good-will that seeps through the film. There may well be a certain naivety to the tale, but it is not without its own oddball charm (plus it is beautifully shot by Thomas Burstyn) with Paratene's performance quite memorable.
Production company: Blue Hippo Media, Holy Bucket Productions
Producers: Pip Piper, Rob Taylor, Mike Riddell
Executive producers: Tim Sanders, David Ball
Screenplay: Mike Riddell
Cinematography: Thomas Burstyn
Editor: Paul Maxwell
Production designer: Brent Hargreaves
Music: Neville Copland
Website/contact: www.theinsatiablemoon.com
Main cast: Rawiri Paratene, Sara Wiseman, Ian Mune, Greg Johnson, Mick Innes, Jason Hoyte