Dir: Sebastien Lifshitz. France. 2012. 115mins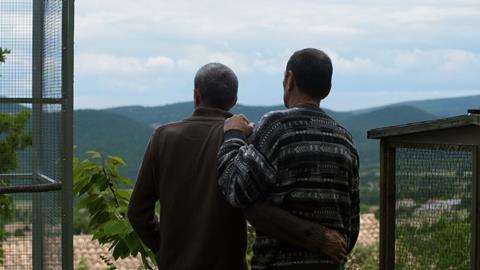 Sebastien Lifshitz's leisurely engaging documentary about elderly openly gay and lesbians in France – or 'invisibles' as he calls them, claiming that aging homosexuals withdraw from their social lives as they get older – offers an intriguing glimpse into attitudes of old France as they talk about their experiences over the past 60 years.
The Invisibles weaves its gentle and leisurely story through recent French history.
The strength of The Invisibles (Les Invisibles) are the warm, generous and often joyous recollections of a series of men and woman who are pragmatic about the homophobia and aggression they faced but more interested in talking about the joy, happiness, love and sex they have experienced over their long lives. Running almost two hours, the film is likely to receive limited formal distribution, though likely to find invitations to GLBT festivals easy to come by.
Lifshitz the documentary-maker is a nicely passive presence in the film, though clearly the various men and women he tracked down over an extensive pre-production period are completely at ease and happy to discuss their lives. He tracked down a series of people – none linked – who were born between the wars, and simply asked them talk about their experiences as well as reveal what it is like to age and love for homosexuals over the age of 70.
The various interviewees – who are only ever identified by their first names – talk about their early sexual experiences and how they first came out; discuss the gay rights movement alongside the women's rights protests; their relationships and partners and (in the film's most moving and charming moments) dwell on how happy they have been over the years. A plethora of old photographs and film footage sit alongside the interviews.
White the fight for decriminalisation of homosexuality and equal rights plays a key part of the interviews, Lifshitz is perhaps more interested in how many of the interviewees have lived together openly for more than 30 years, and how while secrecy and discretion were commonplace there was also a good deal of tolerance across different social backgrounds.
The backdrops for the interviews also play an important part in the film, with Lifshitz using images of nature to symbolise a certain fulfilment. He also uses it to puncture the cliché that homosexuality was hidden away in France in the past, with strong use of images of an elderly French farmer who discusses his various lovers who would swim in a stream with him, and a lesbian couple who escaped to the countryside and ran a busy farm and were always supported and encouraged by other farmers in their community.
There is a strong sense, though, that it is a film that could have been much tighter, with some of the stories vaguely repetitive as The Invisibles weaves its gentle and leisurely story through recent French history.
Production companies: Zadig Films, Rhone-Alpes Cinema, Sylicone
International sales: Doc & Film International, www.docandfilm.com
Producer: Bruno Nahon
Cinematography: Antoine Parouty
Editors: Tina Baz, Pauline Gaillard
With: Yann and Pierre, Bernard and Jacques, Catherine and Elisabeth, Pierrot, Therese, Christian, Monique, Jacques