Dir/scr: Kamen Kalev. Bulgaria-Sweden. 2011. 108mins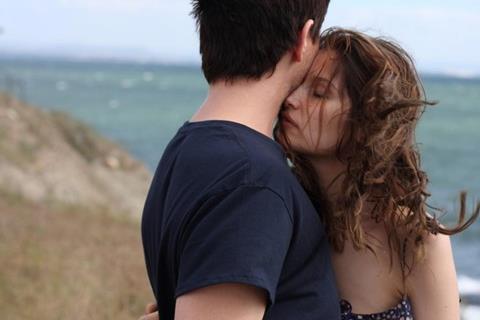 A cross-cultural Parisian couple - and, by extension, the audience - get way, WAY more than they bargained for when they take a few days holiday elsewhere in Europe in The Island. Producer-writer-director Kamen Kalev (Eastern Plays) sends all concerned on a multi-pronged journey, a trippy triptych whose twists are impossible to anticipate.
This careening film has the courage of its convictions.
Viewers who like surprises shouldn't read synopses or reviews and just bring an open mind and a sturdy attention span into the theater. Eclectically cast, fearlessly ambitious and more than a little nutty venture will no doubt divide viewers into "You've got to be kidding" and "Whoah - that was cool!" camps, but this is a conversation starter even if the conversation consists of "What was THAT?"
Sophie (Laetitia Casta) and Daneel (Thure Lindhardt) have been a couple for four years. They're hard-working citizens with good jobs and their carnal connection is palpable. Some might find it surprising that a natural beauty in Casta's league would set up house with a fellow who here is made to look like the love child of Willem Dafoe and Matthew Broderick, but these two are hot for each other. It's their verbal communication that needs improvement.
He's on edge and distracted, due to his stressful corporate job. Sophie wants a vacation break. He leaves the destination and travel arrangements up to her. When they get to the Paris airport and Daneel learns she has booked a flight to Bulgaria, he freaks out, categorically refusing to go but finally relenting.
When they land in Sofia, a doughy, seriously retarded man accosts them for a cigarette, whereupon Sophie learns that Daneel speaks Bulgarian. She thought he was German. They each have rather momentous secrets. Hoping to salvage what was meant to be a relaxing getaway, they take a ferry to a small island - formerly known as Bolshevik, no less - that boasts a monastery, a café and a handful of guest rooms.
A deliciously ominous aura of unease pervades every shot and dialogue exchange. Radiating earthy, sensual poise, Casta's down-to-earth persona tries to defuse the percolating menace just by remaining herself as Daneel grows less and less familiar.
Daneel's glimpse of middle-aged guest Irina (Bojka Velkova), has triggered the kind of dreams and memories - or are they delusional fantasies? - film is the perfect medium to convey. In one such feverish interlude, Sophie gives birth to something you don't see every day, even in the aisles of Symbols R Us.
Fed up with her increasingly erratic mate, Sophie returns to Paris, leaving Daneel to experience the sort of transformation caterpillars and butterflies have been perfecting for millennia. An incredibly strong and interesting premise seems to dissipate into terminal eco-pretentiousness. And then things REALLY get weird.
Sophie and Daneel speak English together although she occasionally bursts into French. Lindhardt, a Dane who shows an impressive range as the tale plunges off the beaten narrative path, learned his Bulgarian lines phonetically.
From the opening scene in which Alejandro Jodorowsky gives a Tarot reading to the unpredictable multiple endings, this careening film has the courage of its convictions. It's a love-it-or-hate-it affair.


Production companies: Waterfront Film, Chimney Pot, Film i Västerbotton, Art Eternal, Bulgarian National Television
International sales: Le Pacte, www.le-pacte.com
Producer: Kamen Kalev
Executive producers: Elitza Katzarska, Stela Pavlova
Cinematography: Julian Atanassov
Production designer: Sebastian Orgambide
Editors: Asa Mossberg, Mikkel E.G. Nielsen, Kamen Kalev
Music: Jean-Paul Wall
Main cast: Thure Lindhardt, Laetitia Casta, Boyka Velkova, Russi Chanev, Alejandro Jodorowsky