Dir: Jesse Lawrence. UK. 2012. 92mins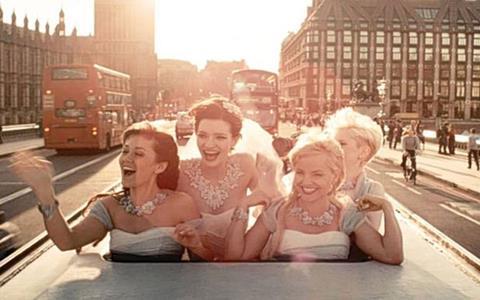 That old film plot standby 'the run up to the wedding' gets dusted off and pretty much ruined in The Knot, an unrelentingly unfunny British 'comedy' that contains little in the way of entertainment despite some game performances. The likes of Mena Suvari, Noel Clarke and Talulah Riley give the film some modest pep, but sadly this film should never have made it to the alter.
First-time filmmaker Jesse Lawrence ticks familiar boxes, but The Knot offers nothing new.
The arrival of the classy and genuinely funny Bridesmaids last year made it clear that wedding comedies could relish gross-out moments as well as a dash of old-fashioned comedy romance, but The Knot clumsily targets the lads-mag audiences and even uses that oh-so familiar framing device of having bride and groom being videoed as part of the nuptials.
In this instance we have Matthew McNulty (who recently starred in a TV adaptation of Room At The Top) as the groom and Talulah Riley (perhaps best known for St Trinians, but who has made a nice series of cameos in recent films and is blessed with poise and beauty) as the beautiful bride, while also leveraged into proceedings are Noel Clarke as best man and wrangler of the groom's dumb stag-night buddies and Mena Suvari as an American cousin whose task it is to bring together the bubbly bridesmaids.
Noel Clarke (who scripted and starred in recent creature-feature Storage 24 and has a role in the new Star Trek film) is also co-writer and one of the producers, and despite engagingly underplaying his role as actor is clearly partially to blame for simplistic, clichéd and rather bumbling script. First-time filmmaker Jesse Lawrence ticks familiar boxes, but The Knot offers nothing new.
The structure is familiar, following the twin storylines of the hungover bridegroom and his pals and the bride and her bickering bridesmaids as they gradually make their way to the wedding. A series of supposedly 'comic' moments include missing wedding car, toilet humour involving the rings and a loopy ex-girlfriend who has plans to halt proceedings, but it is blessed relief when things come to a 'happy' ending.
Production companies: Unstoppable Entertainment, New Treatment
International sales: Exile Media Group, info@exilegroup.com
Producers: Noel Clarke, Davie Fairbanks,
Executive producers: Louise Dylan, Hakan Kousetta
Screenplay: Geoff Carino, Noel Clarke, Davie Fairbanks, Roslyn Hill, Jason Maza, Junior Nunoo, Enrico Tessarin
Cinematography: Trevor Forrest
Production designer: Paul Burns
Music: Adam Lewis
Main cast: Noel Clarke, Matthew McNulty, Mena Suvari, Talulah Riley, Jason Maza, Susannah Fielding, Davie Fairbanks, Rhoda Montemayor, Steve Furst, Brett Goldstein