Dir: Christopher Hochhausler. Germany-France. 2014. 112mins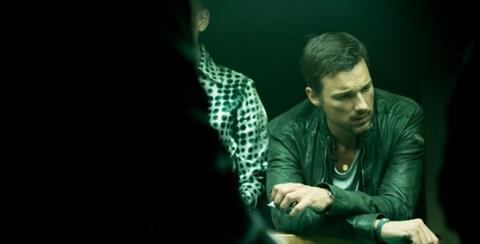 Taking its title from a Lawrence Ferlinghetti quote ("history is made of the lies of the victors"), Christopher Hocchausler's fourth feature is a tasty, intelligent, humour-tinged political newsroom thriller with a stylishly jaded worldview. It premiered in competition at Rome, but could easily have made the cut in a bigger festival with a penchant for artsy genre fare. Though some local political targets and current-affairs references will be lost, upscale cineaste audiences should respond well even outside of Germany.
If Hochhausler's aim was to make a sexy, clever, thought-provoking arthouse genre movie, he's certainly pulled it off.
There are shades of Polanski's The Ghost Writer here, but in fact this good-looking film's core theme – the frustrations of serious, investigative news reporting in an age when budgets are tight, legal challenges rife and targets increasingly media-savvy – is more reminiscent of Season 5 of The Wire, as created by David Simon, whose terse summary of that wrap season could well serve as a logline for this Berlin-set drama: "it's about what stories get told and what don't and why it is that things stay the same." The film premiered at the Rome Film Festival.
Written together with novelist Ulrich Peltzer, who also collaborated with the director on The City Below (2010), The Lies Of The Victors (Die Lungen der Sieger) begins by following handsome weekly news magazine reporter Fabian Groys (Fritz) through a day that not only plants the seeds of the story, but sketches in some of his character traits and faults too. Chief among these are arrogance, misogyny and a penchant for risk (he drives a Porsche and frequents an illegal gambling den – one soon being pawned to pay off the debt he notches up in the other).
Fabian is working on a story about a German army ruse to cover up the true number of traumatised veterans returning from tours of duty in Afghanistan. When his old-pro editor (Kotterba) forces Fabian to take on Nadja (Stangenberg), a serious young intern with connections, as his assisitant, it feels like we're in familiar investigative drama territory. We are, in a way, but the odd-couple rapport between the two is nicely played out, the sexual frisson never swamping our interest in the unfolding investigation, which soon leads Fabian and Nadja in the direction of a recycling plant where war-damaged vets are employed. One recently jumped into a lion's enclosure at the Gelsenkirchen Zoo – after his mental stability was further undermined by dangerous toxins, the reporting duo soon discover.
Meanwhile, in a subplot that keeps its distance from the main story for an intriguing while, a seedy lobbyist for the toxic waste industry is piloted through a meeting with a party leader by a sinister consultancy firm whose remit seems to extend to computer hacking, phone tapping and even the occasional 'physical intervention'. A neo-noirish atmosphere is stoked by refractive lenses, black and white surveillance camera shots, and some classy soundtrack music – jazz, modern classical, lounge, electronic – which sometimes plays effectively against the expected on-screen mood. There's even dramatic purchase in the settings – like the consultants' bare, cube-like offices, which when filmed from outside, at night, reveal how an anonymous office block can hide a world of secrets.
Disjointed, unsettling, raising frequent doubts about who, if anyone, is on Fabian's side, the story is in the end a little too sparing on explanations for its own good: in particular, the subtle nature of these anonymous lobbyists' sleight of hand needs spelling out more clearly, even at the risk of coarsening it, as it's the key to the whole dramatic arc. But a slight sense of letdown as the credit roll is no more than that; if Hochhausler's aim was to make a sexy, clever, thought-provoking arthouse genre movie, he's certainly pulled it off.
Production companies: Heimatfilm GmbH, CO KG., Mact Productions
International sales: The Match Factory, info@matchfactory.de
Producer: Bettina Brokemper
Screenplay: Ulrich Peltzer, Christoph Hochhausler
Cinematography: Reinhold Vorschneider
Editor: Stefan Stabenow
Production designer: Renate Schmaderer
Music: Benedikt Schiefer
Main cast: Florian David Fritz, Lilith Stangenberg, Horst Kotterba, Ursina Lardi, Avred Birnbaum, Gottfried Breitfus, Karl Fischer