Dir: Andrew Lancaster. Australia. 2014. 90 mins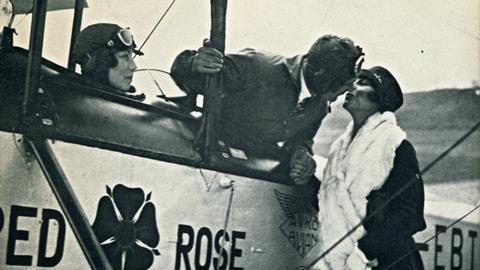 The Lost Aviator is a personal spin on a well-known jazz age affair and subsequent murder trial. The eternally-fascinating Bill Lancaster and Chubbie Miller story has been comprehensively exhumed in the decades since the aviator finally disappeared in the Sahara desert in 1933. (The most recent cinematic interpretation was the 2009 French film, The Last Flight, with Guillame Canet and Marion Cotillard, which followed on from the 1985 Australian TV mini-series The Lancaster Miller Affair).
For those unfamiliar with Bill Lancaster, this is an incredible yarn that should play well on television, although the personal, present-day element can slow the momentum down.
Here, Lancaster's descendants look back on the story that has shadowed their lives. Prior to his disappearance, Lancaster was a celebrated aviator who flew to Australia in an Avro Avian with Miller in 1927, making her the first woman to manage the England-Australia passage. Married to others at the time (director Andrew Lancaster (Accidents Happen) is a descendant) their affair culminated in a squalid Palm Springs shooting, and Lancaster was tried – and acquitted – for the murder of an American writer, Haden Clarke.
Heady stuff, this is the Australian equivalent of the 'Happy Valley' Kenya killing of Lord Erroll, or the boozy Bahamas murder of Sir Harry Oakes and, like those cases, has been compulsively revisited and re-examined by modern experts. Miller was Australian, and Birmingham-born Lancaster lived there before the First World War, although their affair played out on in the flashbulbs of global notoriety.
Here, the family has its say at last, with Andrew Lancaster turning the cameras on his parents and his great-aunt (Bill Lancaster's sprightly 85-year-old daughter Nina). Almost all question Lancaster on his motives for making the documentary and ask what can be added to the story now. And they have a point. While he does have something to say about a family's ability to judge its forebears dispassionately, Lancaster the great-nephew finds it impossible to push an engaging octogenarian aunt too hard about the guilt of a father who so carelessly abandoned her.
For those unfamiliar with Bill Lancaster, this is an incredible yarn that should play well on television, although the personal, present-day element can slow the momentum down. It's a story which keeps on giving: Lancaster's body wasn't actually found in the Sahara until 1962, when French troops discovered his mummified remains and a diary he had kept as he died, touchingly professing his enduring love for Miller. He was only 34, but had lived several, racy lives.
The wreck of his plane, the Southern Cross Minor, was recovered by an expedition in 1975 and brought to Australia.
Lancaster Junior lays no documentarian's stone unturned here – interviewing members of the 1975 expedition, one of the Frenchman who found the body (and also wrote a book about the dead pilot), even playing a recording of someone who chatted to Chubbie, and so on. The Lost Aviator includes copious footage from the cheesy 1985 Channel 9 mini-series, going so far as to interview the actor who played Bill Lancaster, alongside American legal experts and forensic specialists, reconstructions and voiceover provided by actors in the main roles. It's a busy film at 90 minutes.
Even before watching this documentary it seems likely that, despite his acquittal, Lancaster was more involved in the murder of Haden Clarke than anyone in his family would like to admit and as such, he remains an elusive figure. His words are touching, as is his devotion to Chubbie, - not an entirely sympathetic character - but there is also the sense of a time and morality long gone which present-day interviewees struggle to put into context.
Production companies: Lancaster Films, Porchlight Films, Photoplay Films
International sales: Escapade Media, info@escapademedia.com.au
Producers: Noni Couell, Andrew Lancaster
Screenplay: Andrew Lancaster
Cinematography: Max Dals, Nino Tamburi
Editors: Que Minh Luu, Andrew Soo
Music: Matteo Zingales
Voice cast: Ewen Leslie, Yael Stone