Dir/scr: Joel Hopkins. UK-France. 2013. 95mins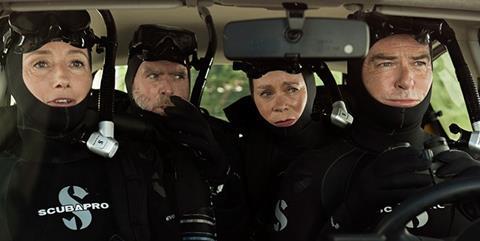 A middle-of-the-road heist-comedy aimed fair-and-square at the middle-aged middle-classes, the blithely silly The Love Punch offers disposable entertainment that is so gentle and clichéd that it rarely takes full advantage of the star power and genuine acting skills of its strong cast, none of whom are asked to do little more than over-act and roll out their broadest comedy routines.
Brosnan and Thompson make for an engaging separated couple.
That being said, there are some genuinely lovely and amusing moments in amidst the rather blunderingly staged proceedings, mainly coming from the ever-elegant Emma Thompson who is the charming driving force of the film. At times so poor it makes you cringe, in the end – oddly enough – The Love Punch comes close to winning you over with its enthusiasm to embrace its broad comedy, or at least enjoy the few comedy nuggets that come your way.
Pierce Brosnan and Emma Thompson star as a divorced duo who set aside their differences to undertake a high-stakes jewel robbery on the Côte d'Azur. Of course it is really an excuse for a little location shooting in Paris and the French Riviera as Mr and Mrs Jones (she never bothered changing her name after the divorce) get to appreciate each other all over again. When his company is liquidised by a sleazy French businessmen, Richard (Brosnan) and Kate (Thompson) lose all of their savings – as well as money owed to his staff – the pair plot to steal a $10million diamond the businessman (Laurent Lafitte) has bought for his soon-to-be-wife (Louise Bourgoin).
Recruiting their best friends Jerry (Timothy Spall) and Pen (Célia Imrie), they hatch a scheme where the pretend to be Texan millionaires (cue some dressing up and use of bad accents), infiltrate a cliff-top chateau (cue scuba gear and scaling a rock face) where the wedding is being staged and switch the diamond with a fake.
Writer/director Joel Hopkins (who made Last Chance Harvey with Emma Thompson) is aiming for old-fashioned screwball heist high-jinks – he is aiming for The Pink Panther crossed with His Girl Friday - but it is actually a hard genre to get right (as Colin Firth knows from the equally so-so Gambit) and despite the best efforts from his cast the story and – to a large extent – the dialogue just can't live up the good intentions.
Brosnan and Thompson make for an engaging separated couple (she is especially strong on comedy, while there some nice gags about his good looks) and when teamed with such comedy pros as Imrie and Spall the film finds its warm-and-fuzzy heart. The sight of the four of them in wetsuits plodding into the sea for a raid on the chateau (Pen has made egg sandwiches) is genuinely funny, as is a running gag about secrets from Jerry's past (ex-merchant seaman who knows criminals, was in the French Foreign Legion and still has shrapnel in him from Saigon) that Pen knows nothing about is rather amusing.
Production companies: The Love Punch Limited, Process, Radar Films, SND Films
International sales: SND Films, www.sndfilms.com
Producers: Tim Perell, Nicola Usborne, Clément Miserez, Jean-Charles Lévy
Executive producers: Thierry Desmichelle, Lionel Uzan, Matthieu Warter, Al Munteanu, Nicolas Manuel
Cinematography: Jérôme Almeras
Editor: Susan Littenberg
Production designer: Patrick Durand
Music: Jean-Michel Bernard
Main cast: Emma Thompson, Pierce Brosnan, Timothy Spall, Célia Imrie, Louise Bourgoin, Laurent Lafitte