Dir/scr: Caradog James. UK. 2013. 90mins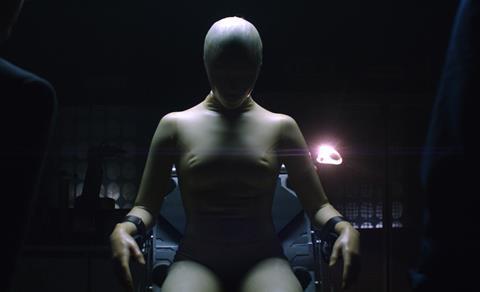 An impressively slick and intense British sci-fi film, writer/director Caradog James's The Machine may sport a rather bland title but is a stylish fantasy thriller, blending the Frankenstein story with Blade Runner and coming up with a beautifully shot futuristic tale brimming with memorable moments.
Like Daryl Hannah's Pris in Blade Runner she spirals and tumbles with elegance, radiating energy and a lust for life, with Caity Lotz often quite mesmerising in the role.
The film, which closed the UK's Raindance Film Festival and is set to open in the UK in March 2014, should attract distributor given its sleek and often sexy core of a female super solider (aka the Machine) whose underlying compassion and humanity sets her/it against its cruel creators. Its strong genre credentials should appeal to niche distributors and genre festival exposure will be guaranteed.
Strong and charismatic lead performances from Toby Stephens and Denis Lawson provide the perfect platform for relative newcomer Caity Lotz (from MTV comedy horror series Death Valley and Sundance 2012 film The Pact) to show off her physical flair and grace in twin roles as an American scientist and the 'Machine'.
In the near future a still recession-hit Britain is caught up in a cold war with China. Scientist Vincent McCarthy (Stephens) is developing brain implants that will help war victims not only recover but also be more efficient as partly mechanised soldiers. He also hopes his technology will help his ill young daughter.
But while his implants can help some soldiers recover, it also seems to inhibit their ability to talk, with some also becoming overly violent. He recruits young American scientist Ava (Lotz) whose software he thinks could hold the key to unlocking the secrets of the conscious machine he is developing, but she grows suspicious of the work down at his dark and dank laboratory and doesn't trust his manipulative boss Thomson (Lawson) who has his own agenda.
When Tomson arranges for Ava to be killed, Vincent uses the software they had been developing to bring the Machine to life in Ava's image. Thomson plots to modify her programming and for a while it looks as if he will success in manipulating her, but she fights back and leads the ex-soldiers with implants to fight back against Thomson and his soldiers, rampaging through the base and destroying anything in her path.
The film stutters a little at the start with the dialogue a little stilted to begin with, but it soon finds its rhythm with Denis Lawson especially having great fun with some amusingly dark lines and relishing playing the evil manipulator. Toby Stephens is suitably stoical and impressive, and it is to the films credit that he isn't asked to play the action man – his morally conflicted scientist is complex enough – with the visceral violence left to Caity Lotz's 'Machine'.
Initially the Machine is decked out in a skin suit, but as she is 're-born', strips the outer layer off and discovers her own soul she is beautifully filmed spinning and twirling naked in a darkened lab with her body glowing red. Like Daryl Hannah's Pris in Blade Runner she spirals and tumbles with elegance, radiating energy and a lust for life, with Caity Lotz often quite mesmerising in the role.
There are themes from Blade Runner punctuating the film – plus some of the music cues remind of the film – but The Machine is very much its own creation, and delivers plenty of largely sound-stage based action as it heads towards a violent climax, though it shrewdly finally ends with a sense of hope and warmth.
Production companies: Red&Black Films, The Ideas Factory
International sales: Content Media, www.contentmediacorp.com
Producer: John Giwa-Amu
Executive producers: Jamie Carmichael, Paul Eyres, Robert Graham, Cardog James, Alan Martin, Ali Pour
Cinematography: Nicolai Bruel
Editor: Matt Platts-Mills
Production designer: Erik Rehl
Music: Tom Raybould
Main cast: Toby Stephens, Caity Lotz, Denis Lawson, Sam Hazeltine, Pooneh Hajimohammadi, John Paul Macleod, Helen Griffin, Siwan Morris, Nicola Reynolds, Jade Croot, Jonathan Christian Byrne, Alan Low