Dir/scr: Paul Thomas Anderson. US. 2012. 137mins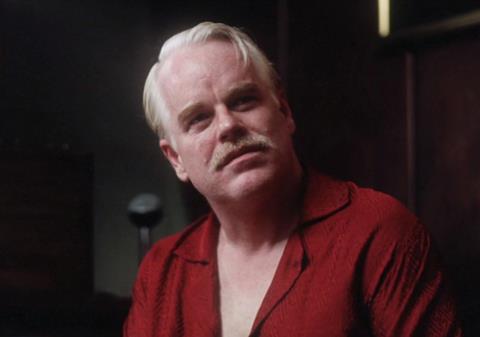 Paul Thomas Anderson's polished, provocative and at times stirringly powerful The Master might well lack the sheer brash dramatic bravura of his last film, There Will Be Blood, but its bold story of a lost soul finding solace and salvation of a sort in the arms of a charismatic cult leader has lingering resonance and is driven by impressive lead performances from Joaquin Phoenix and Philip Seymour Hoffman.
Take nothing away from The Master – it is a strikingly well made film that pulls no creative punches.
To a degree, 2007's There Will Be Blood would always be a pretty tough act to follow, though The Master has enough memorable scenes, beautiful imagery, stirring music and skilfully constructed dialogue to see it as a contender with awards season just around the corner. The film, which screened in competition at the Venice Film Festival, will likely travel extensively with some controversy in its wake (the link to Scientology has been much written about, though the film is no expose) and be critically admired for its performances and visual grace.
If it lacks the sense of a real dramatic arc, then it is simply because it takes a snapshot of a period rather than trying to tell an epic story and uses the tough-but-tender bromance between cult leader Lancaster Dodd (Hoffman) and tormented, drunken, drifter Freddie Quel (Phoenix) as its core. Both their performances are impressive – both act in rather different ways but when they come together on the screen their scenes are memorable.
The film opens at the close of World War II, with Navy man Freddie Quel drinking his way through the end of the war (there are striking shots of him drunken on a South Pacific beach or sleeping off the effects of the booze on a precarious perch high above his ship), and eventually sent to a V.A. Hospital where Navy psychiatrists delve into his issues.
After failed work as a photographer in Capwell's Department Store and working as an agricultural labourer in Salinas, California, in 1950 he drunkenly stows away on board the Alethia, a plus steam yacht lent to writer, philosopher and scientist (as he describes himself) Lancaster Dodd. The vessel – in a striking night-time shot in San Francisco harbour – sails for New York, and Quel finds himself brought under Dodd's wing…mainly for his skills for making hooch than for his charisma.
In one of their meetings Dodd cryptically asks Quel is he is one of the 'Hidden Rulers' or is a communist, before tentatively getting Quel to participate in 'The Process', in which he asks Quel a series of questions. Dodd, it seems, is the leader of a group called The Cause, which believes that each person has lived past lives going back trillions of years, with each body a new vessel for that person. His acolytes call him 'The Master'.
After Dodd has a run in with a doubter at a plus New York party, the contingent – which includes his pregnant wife Peggy (Amy Adams), grown-up son Val (Jesse Plemons, who does look like Hoffman) and recently married daughter Elizabeth (Ambyr Childers) – head to Philadelphia and the home of Helen Sullivan (Laura Dern), a fervent member of The Cause.
Though still a heavy drinker and at times sceptical of Dodd (whose son Val even tells Quel that he just makes things up as he goes along), Quel is increasingly drawn to this tolerant father-figure, and even resorting to violence when police come to arrest Dodd.
With the publication of Dodd's second book, The Split Saber imminent and much anticipated – by The Cause followers at least – the group head to Phoenix, Arizona, for a coming together of followers from around the country. In an enigmatic scene Dodd and Quel track into the mountainous desert to dig up a metal case, though it is never revealed what it holds.
Quel continues with his processing, and even leaves the fold for a while when he feels he has grown enough emotionally to try and track down Doris (Madisen Beaty), his wartime sweetheart who he romanced when she was just 16 some seven years earlier. Perhaps she held the possibility of full redemption for him, but on finding she was married Quel is drawn back to The Master, who has now relocated to England.
Though the film essentially follows Quel and his journey from drunken wreck to a man more levelled (though never fully balanced) by his association with The Cause, the core of is the film is Lancaster Dodd himself. Philip Seymour Hoffman has always been a charismatic performer, but here his almost messianic role gives him full range to seduce, charm, challenge, provoke and entrance and he delivers a performance that will likely see awards attention. And he is nicely balanced by Joaquin Phoenix whose sheer mesmeric physicality (he is all slumped shoulders, hands on hips, eyes glowering and bristling with suppressed rage) acts as a perfect counterbalance to the gentle charisma of Dodd.
Amy Adams offers equally fine support. Her character may not have as much to do in the film, but she really makes an impact in one scene when it becomes clear that on the surface her Peggy may appear the simple supportive wife but behind closed doors she is perhaps more the stern zealot than Lancaster himself as she tells him to stick to the guideline of The Cause and deliver the message.
The film is beautifully shot by Mihai Malaimare Jr., with the 1950s perfectly recreated and rendered in lustrous burnished colours that suit the era. Equally striking is Jonny Greenwood wonderful score that is pitched perfectly and grips right from the first scenes in the South Pacific.
The Master somehow lacks a real dramatic high that suits the gripping introduction to The Cause – and the final switch to England seems rather pointless and could have been set anywhere, though the scenes of Quel and Dodd meeting for the last time in Quill's magnificent office are striking – meaning the film rather meanders to its conclusion rather than ending on a satisfying dramatic high. But take nothing away from The Master – it is a strikingly well made film that pulls no creative punches.
Production companies: Weinstein Company, Ghoulardi Film Company, Annapurna Pictures
Producers: Joanne Sellar, Daniel Lupi, Paul Thomas Anderson, Megan Ellison
Executive producers: Adam Somner, Ted Schipper
Cinematography: Mihai Malaimare Jr
Editors: Leslie Jones, Peter McNulty
Production designers: Jack Fisk, David Crank
Music: Jonny Greenwood
Main cast: Joaquin Phoenix, Philip Seymour Hoffman, Amy Adams, Laura Dern, Ambyr Childers, Rami Malek, Jesse Plemons, Kevin K O'Connor, Christopher Evan Welch, Madisen Beaty