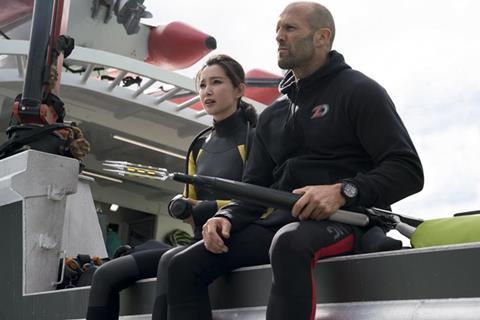 The Meg ruled the waves last weekend and gets to bare its teeth in a second weekend where there are few serious competitors from Hollywood.
The giant shark tentpole has glided to $154m through Warner Bros Pictures International, including $78.6m from China via Gravity Pictures.
Jason Statham and Li Bingbing star in the late summer release and studio brass will be looking to cross $200m this weekend, or at least come close. Debuts in Australia and South Korea are expected to help the cause.
Combined with the North American tally, The Meg – which reportedly cost $130m to produce excluding marketing – has glided to an encouraging $213m worldwide.
The female-led caper Ocean's 8 stands at $145.4m, while comedy Tag has grossed $22.1m, and family release Teen Titans Go! stands at $5.4m and arrives in Germany.
Mamma Mia! Here We Go Again should soar past $200m this weekend through Universal Pictures International. Executives report a $190.6m running total with debuts set for Mexico, Russia, Hong Kong, and Colombia.
The Dwayne Johnson action tentpole Skyscraper has grossed $132m from Universal territories, rising to more than $229.1m including more than $97.1m in China through Legendary East. Horror release The First Purge on $59.9m opens in Thailand.
Spike Lee's BlacKkKlansman, which last weekend scored the director's biggest US debut in a decade, has earned $600,000 and infiltrates Australia and the UAE, among others. Jurassic World: Fallen Kingdom has grossed $873.4m.
Sony Pictures Releasing International's Hotel Transylvania 3: Summer Vacation stands at $245.7m and debuts in China through Cyclops Pictures.
The Equalizer 2 has grossed an early $15.1m and gets launches this weekend in the UK, Mexico, Germany, France, Brazil, and the Netherlands. To give an idea of what the revenge thriller is up against, the 2014 original finished on $90.8m internationally and debuted in the UK on $3.1m, Mexico on $1.3m, Germany on $2.3m, France on $2m, Brazil on $1.2m, and the Netherlands on $584,000.
Paramount Pictures International's Tom Cruise vehicle Mission Impossible Fallout will cross $300m this weekend if it has not already done so on Friday, and stands at $296.9m. The global running total is roughly $465m.
Fox International's The Darkest Minds has grossed $12.6m from the early stages of release and arrives in 14 territories led by Australia, Germany, Brazil, Italy and Hong Kong. The thriller Napoli Velata opens in Germany.
Walt Disney Studios Motion Pictures International's Incredibles 2 from Pixar stands at $513.5m and s winding down after its superb run. Marvel Studios' Ant-Man And The Wasp on $251.5m arrives in Italy and Portugal and is also slowing down.
Ewan McGregor drama Christopher Robin has fresh legs, however, and stands at $14.3m with the prospect of a strong debut in the UK, as well as Brazil, Germany, Malaysia and Poland and a handful of others.