Dir: Tim Chambers. US. 2011. 99mins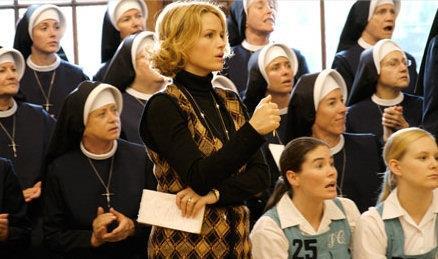 A heartfelt and generally well acted tale of sports underdog uplift, and a marginal recommendation for those interested in its subject matter, The Mighty Macs tells the true story of a driven women's basketball coach who in the early 1970s turned tiny Immaculata College into a three-time national champion. Achingly familiar in its plotting, and evincing little ambition to stretch beyond its comfortably prescribed parameters of feel-good fortification, the film mainly serves as a nice showcase for Carla Gugino, as well as helping remind viewers that sports aren't some exclusive, birthright domain of just men.
Burstyn brings wonderful shading to a role that could easily have come across as unsympathetic.
Facing stiff opening weekend competition from three different studio releases with more marketable and clearly defined audiences, The Mighty Macs is playing up its family-friendly qualities in an effort to lure more conservative audiences to theatres, but seems consigned to drum up most of its business via domestic ancillary markets. The period setting, lack of big stars and, quite frankly, gender lens all necessarily limit the movie's international appeal.
Hired for a meager $450 salary by Mother St. John (Ellen Burstyn), Cathy Rush (Gugino) is given one worn basketball, no gymnasium and little more than the bluntly conveyed directive to "use these activities to suppress the girl's hormones." An extremely competitive person, however, Rush pushes all the returning players on her tiny, all-girls Catholic school team to embrace some of the more aggressive tactics used in men's games. She wants to win, and she wants her girls to be driven by that same passion on the court.
Sister Sunday (Marley Shelton), a nun struggling with her faith, joins Rush as her assistant coach, and their efforts rather quickly start producing results. Off the court, meanwhile, Mother St. John deals with a budget shortfall that leaves her unable to commit many more resources to Rush's team. As the first-of-its-kind national women's postseason tournament prepares to tip off, the Immaculata squad secures a coveted at-large berth, rallies its community, and goes on to make an amazing run to the championship.
If The Mighty Macs (so named for the school's mascot) charts a familiar narrative course, Gugino is the engine that keeps it going, and on track. Sacrificing no femininity, she's plucky and driven, and has a connection with her young charges that is based around goals and hard work, but at the same time not dishonest about its roots in gender identification, either.
Gugino's recent Elektra Luxx costar, Shelton, meanwhile, is also wonderfully engaging, while Burstyn brings wonderful shading to a role that could easily have come across as unsympathetic. It is in the relationships of these three women — with one another, the school, and their fellow colleagues — that The Mighty Macs feels most alive. Despite one or two good scenes of interaction with Rush, the young players are somewhat surprisingly not given a great amount of differentiation, and ergo blend together.
The movie's failings chiefly relate, though, to a string of curious third act missed opportunities, in which various story tidbits (Rush competing against an ex-coach, who cut her from two teams, or later outing herself to Sister Sunday as Baptist, not Catholic) are given low payoff by writer-director Tim Chambers, in favor of more generic basketball action.
There's also no sincere attempt at digging into a more textured, engaging and realistic portrait of Rush's relationship with her husband Ed (David Boreanaz), which seems especially baffling given that he is a professional basketball referee. Early on, Ed pushes back against his wife's workplace devotion, as one might suspect to find fairly common for the time period, but he falls readily into supportive mode when it becomes convenient to have rah-rah cutaways and other moments of emotional support later in the movie.
Technical credits are solid throughout. Production designer Tim Galvin achieves a convincing period piece look on a small budget, and Chambers, cinematographer Chuck Cohen and editor William Ross also nicely choreograph the hoops action so that it does not devolve into a series of ridiculously short shots.
Production companies: Ocean Avenue Entertainment, Alexandra Grace Curran Productions, Quaker Media
Domestic distribution: Freestyle Releasing
Producers: Whitney Springer, Tim Chambers
Executive producers: Pat Croce, Vince Curran, John Chambers, Thomas Karl, Bud S. Smith, Sean Wolfington
Co-producers: Mark Robert Ellis, Howard Gensler, John Rizzo, Keith Stephenson
Screenplay: Tim Chambers
Cinematography: Chuck Cohen
Editor: M. Scott Smith
Production designer: Tim Galvin
Music: William Ross
Website: www.TheMightyMacs.com
Main cast: Carla Gugino, Marley Shelton, Ellen Burstyn, David Boreanaz, Kate Hayek, Kim Blair, Meghan Sabia, Margaret Anne Florence, Kate Nowlin, Taylor Steel, Blanka Brunson